Form judge says on rain-affected footing, the inside strip is a no-go area in $4.3 million Golden Slipper.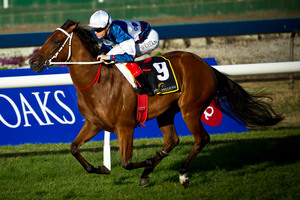 One of Australia's great form judges says Ruud Awakening's outside barrier in today's A$3.5 million ($4.3 million) Golden Slipper has become an advantage.
Highly respected Melbourne form analyst Dean Lester prefers Ruud Awakening's No 16 barrier to the favourite Overreach's No 1 gate.
"The track is a heavy 8 today and with showers forecast for tomorrow, I can't see it getting much better," Lester said yesterday.
The Australian says it is widely accepted that on rain-affected footing, the inside strip at Rosehill is a no-go area.
"You can always be very wary of the inside at Rosehill when it's wet.
"Also, with Randwick having been out of action for a good part of recent times, the inside at Rosehill has been well used."
Overreach, he says, has the speed to get out quickly and perhaps move off the rail, but doing that would use up a lot of petrol.
"Ruud Awakening has more options. If she can break the barriers quickly she could be in business."
"Had the track been firm I would say Ruud Awakening would be very much up against it."
The great advantage the Ruud Awakening team has is that racing's finest tactician, Craig Williams, will be in the saddle.
"I heard Craig on radio this morning," said Lester.
"He has two very fast horses directly inside him and if they go quickly over the first 200m she could find herself in fourth on the outside with a gap to the body of the field."
Overreach is trained by Gai Waterhouse who, if successful with one of her three runners, will be a clear second on the all-time list of Golden Slipper winning trainers.
Head of the list is her father the late, great Tommy Smith with six winners. Gai Waterhouse shares second with Lee Freedman, Clarry Conners and Bart Cummings. Although largely irrelevant on a wet track, the list of successful barrier draws in Golden Slippers makes for interesting reading.
• 2012 Pierro, barrier draws for the first three 1, 7, 11.
• 2011 Sepoy (8, 1, 14).
• 2010 Crystal Lily (1, 2, 14).
• 2009 Phelan Ready (16, 5, 4).
• 2008 Sebring (5, 15, 9).
• 2007 Forensics (1, 6, 4).
• 2006 Miss Finland (7, 16, 8).
• 2005 Stratum (6, 3, 11).
• 2004 Dance Hero (2, 4, 9).
• 2003 Polar Success (14, 3,8).
• 2002 Calaway Gal (6, 12, 9).
New Zealand-trained horses have had few winning chances in modern day Golden Slippers and a couple of them have been unlucky.
None more so than Our Maizcay, who came from the outside barrier, took 350m to get outside the leader, took over on the home turn and was clear in front until he felt the pinch at the 120m and was run down by classy horses Flying Spur and Octagonal.
Champion jockey Mick Dittman swears Our Maizcay would have been a good thing had he drawn 1, 2 or 3.
Difficult to argue against.
Good luck to the Ruud Awakening team for coming up with something like $200,000 to start.
What a win it would be.