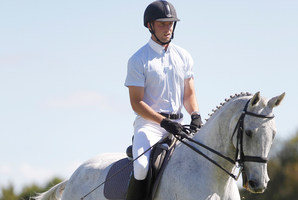 It is accepted wisdom that if you want to make it in the eventing world from this neck of the woods, the United Kingdom is where you have to be.
Mark Todd, Andrew Nicholson, Caroline Powell and Jonelle Richards, the bronze medal-winning Olympic quartet in London last year, and a coterie of up-and-coming New Zealand riders are based there.
Then there's Simon Gordon, aiming for the top but by a different route.
Gordon won the Horse of the Year three-star event in Hawkes Bay two weeks ago and is competing at the Kihikihi international event, south of Te Awamutu, this weekend on his impressive 12-year-old Fletch.com. The combination kicked off in the dressage yesterday with 60.64 per cent for 59 penalty points and sixth spot.
He was in the New Zealand team last year, should be in it again when it's named tomorrow to travel to Sydney this month and, aged almost 24, is clearly among the bright prospects in a sport back in vogue after a lean few years.
However, Gordon is not a rider whose life is totally consumed by what he does in the saddle.
With Bachelors of Commerce in financing and accounting, and property, Gordon works for the ASB in its commercial banking division. He enjoys it too, and wants to make sure his five years of study aren't wasted.
"It's definitely something I want to do at some stage," he said of being based in the United Kingdom. "But I don't have an ambition to be a fulltime rider. I wouldn't have an issue being based over there, but I wouldn't see it as a career choice."
He's not averse to doing a stint in Europe for a specific goal, such as the WEG in France next year, or perhaps Rio's Olympics in 2016. But the long haul gig? That's another story.
That's not to say Gordon, who lives in Karaka, lacks ambition in the sport he began at age 14, graduating from pony club to eventing.
"I set a goal to compete for New Zealand at a senior level and did that last year. Longer term, I've always wanted to compete at the Olympics or World Equestrian Games."
Equestrian is an unusual sport in that its riders are not restricted by age.
Double Olympic champion Todd is 57; Japan's Hiroshi Hoketsu was the oldest athlete at the London Olympics, contesting the individual dressage aged 71.
So time truly is on Gordon's side.
"When I'm 30 and suddenly think 'shoot, I should have gone over there', I still can. Doing it the other way I could be left in the lurch, thinking 'what am I doing, I don't want to be riding horses the rest of my life'."
His is a refreshing view. He likes the idea of being a rounded individual, not locked on one life direction.
Gordon has spoken to national coach Erik Duvander, who pointed out he was choosing a harder route.
Winning Horse of the Year was a thrill; it was Gordon's first three-day title and on his own horse. "He's a real trier, which sometimes is good, sometimes not, because he can be a bit of a worrier, not sure what to do, and he was a bit quirky in his younger years."
But they were the only combination to go double clear in the showjumping round and inside the time limit, setting up a win to savour. Their future promises to be intriguing.
•Central Hawkes Bay wool-classer Monica Oakley and her 11-year-old thoroughbred Fontain are leading the field after the dressage at Kihikihi.
The 25-year-old rode a lovely test to score 66.15 per cent from the trio of international judges, giving her a slender three penalty point lead over her nearest rival, Donna Smith (Te Kauwhata), riding Balmoral Tangolooma.
Oakley is also fourth in the CIC one-star aboard Saltador. The top seven of the 11-strong three-star field are all under 60 penalty points going into today's cross country. A single stop on the cross country will add 20 penalties to the scores.