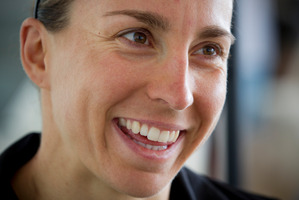 Anne Haug remembers when she was ranked No56 in the world a couple of years ago.
How life's changed for the diminutive German, who won the World Series grand final in Auckland last October, and finished second on the overall standings. She began this year ranked No2 with victory in a World Cup race in Mooloolaba last month and is among the favourites for today's opening leg of the World Series.
So her ambition for this year presumably is to go one better and grab the overall crown, won last year by Sweden's Lisa Norden? Well, no.
"To be realistic, I want to improve my swim," she said yesterday. "That's the most important thing for me.
"Last year they said 'you're the one who can't swim' and now everyone is watching. The expectations of the country are bigger and, of course, I feel the pressure. You can just do your very best and hope no one is better than you."
Haug learned to swim at 20, the same age she started triathlon. Now the 30-year-old from Bayreuth, who shot away from the field on the last run leg of the world final to win in classy fashion, wants to build on her recent achievements.
Organisers of the Barfoot & Thompson-sponsored event - using the same circuit as last year, bar a slight adjustment on the run leg - are justly proud of the layout. However, Haug begs to differ on the severity of the eight circuits for the world series.
"Kitzbuhel will be the hardest. It's just an uphill race, 11km straight up," she said. "I expect that to be the toughest ever. Madrid is really hard, too. The special stuff in Auckland is that it is either up or downhill, very technical and you can't hang loose and roll with the pack. You have to push hard for 40km [on the cycle leg] and see how your legs are."
New Zealand's world No3 Andrea Hewitt and Kate McIlroy, who finished eighth, a spot behind Hewitt last year, should be contenders, along with American Gwen Jorgensen, who turned in a sizzling 34min10s run leg in driving rain last year to finish second in the grand final.
Spain's Javier Gomez is the standout figure in the men's elite race. Twice a world champion - and with a three-from-three record on his appearances in New Zealand - Gomez doesn't have the formidable Brownlee brothers, Olympic champion Alastair and World Series winner Jonny, to contend with today.
Fourth and second at the last two Olympics, Gomez won the grand final in a thrilling finish, rating it "one of my best wins of 2012". He echoed Haug's thoughts on a layout where "you cannot sit at the back of the group and do nothing. You have to be aware and ready for anything. Lots of things can happen."
Ryan Sissons, 11th last year and ranked No19, is the leading male Kiwi. A cut toe a fortnight ago didn't help preparations.
"You've got to be realistic with your goals. This year I'm looking for a lot more consistency over the whole series and see where that takes me," said Sissons.
Tri times
$bull; The elite men's race is on at 12.06pm today; the women's event is at 3.06pm.
$bull; Racing consists of a 1.5km swim at Queen's Wharf; eight laps of a 5km cycle route; and a 10km run.
$bull; The open sprint and standard teams events are at 7am tomorrow with the paratriathlon starting at 8.15am tomorrow .
World series schedule
April 19-20: San Diego
May 11-12: Yokohama
June 1-2: Madrid
July 6: Kitzbuhel
July 20-21: Hamburg
Aug 24-25: Stockholm
Sept 11-15: Grand final, London.