Former top Kiwi player stands to lose heavily if event fails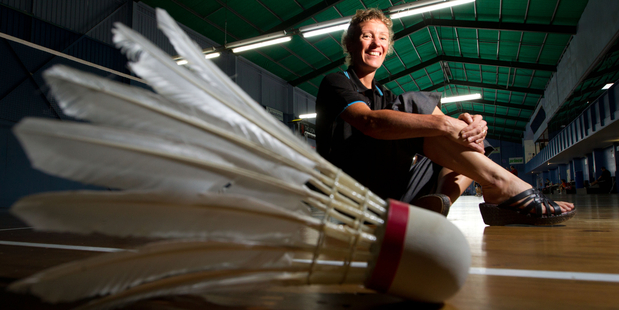 Julie Carrel is the classic little battler who decided to take action when someone else gave no as an answer.
After the national badminton administration ducked for cover, Carrel took on the responsibility and financial strain of running next week's international tournament at the North Shore Events centre.
There will be 250 players from 19 countries contesting the New Zealand Open, which is sanctioned by the Badminton World Federation (BWF) as a US$50,000 grand prix event.
Carrel, who as Julie Still was New Zealand's top player 20 years ago, laughs through clenched teeth when contemplating the losses she will incur and hurdles faced.
While the sport is booming in Auckland via the rising Asian population, obstacles included Auckland SuperCity diffidence, and a backtrack by Sky TV.
But never fear, because Carrel is a "badminton geek" and specialist tournament organiser who is high on eternal optimism. With a treasured volunteer army at her side, she is marching on.
And her battle plan includes gaining an even higher BWF status for the open to attract the world's elite players from next year. She talks to the Herald.

Presumably, there have been a few sleepless nights?
It doesn't pay to think too much about it or I'll have a meltdown. I do have sleepless nights and worry I'll get sick and not be able to carry on at this pace.
Give us the number.
On a shoestring it will cost $200,000 and if I don't lose more than $20,000 I'll be doing great. But I'm flying on the buzz of making it happen and I know it is good for our sport.
Sacrifices?
My husband Ross and I had a trip to Vietnam planned last October but I cancelled that because I hadn't found my major sponsor. My biggest win was when SkyCity came on board in December. It took four months of discussions ... I was on the verge of pulling out of the tournament.
TV coverage?
Sky TV didn't want to do any live or delayed coverage - that took me aback because it wasn't going to cost them anything. I'm paying $35,000 on production and wanted a better return so I've got Cue TV on board - they'll cover the final day live. Sky then scrapped the 55 minutes highlights package, which I thought was a bit childish. The tournament will also go live to Asia on the final day and will be streamed. Streaming is changing the world.
What was the highlight of your own career?
Winning my first national title just after I played in the 1990 Commonwealth Games in Auckland. I got to see the world, make a lot of friends and play a sport I still love. I was okay by New Zealand standards but not internationally. I'm way better at organising.
What does it take to be a top badminton player?
The Asians are so good because they are nimble and fast, and you have to be strong. In my day I loved to watch the world number one Morten Frost from Denmark - he glided around and made it look so easy. But they play the game differently now - faster and stronger.
What about the Asian effect in Auckland?
If you were here (Badminton North Harbour) on a Friday night, you and I would be the only Europeans. The Asians follow their badminton the way Kiwis follow rugby wherever they may be. They also love it as a family and social sport. It's been said the world number one Lee Chong Wei is Richie McCaw times 10 in Malaysia. They even televised his wedding, which had 3,000 guests. He had to have two weddings.
Changing Auckland demographics?
Yes and it's not just people like Sky TV who don't understand that. I tell mainstream companies about the high Asian interest and they don't seem to understand.
Auckland City didn't come to the party either?
The council was annoyed with Badminton New Zealand for cancelling last year. I asked them for $20,000 and said it was going live to Asia. But I got nothing so there will be no Auckland branding. There will be a US$750,000 tournament in Australia next year and not one cent comes from Badminton Australia. The money will be provided through Destination New South Wales. Amazing.
What is your big hope for badminton?
You can't be too insular about things but just more recognition would be nice.
And when it's all over?
I'll go snapper fishing with my husband at Cooks Beach.
He told me that he wants his old crew back.