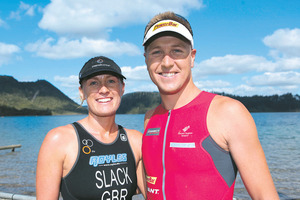 It was a day pro triathletes Ben Allen and Jacqui Slack will always remember as a couple. At last year's Xterra Rotorua Festival, Allen, from North Wollongong in Australia, and Slack, of Stoke on Trent, England, claimed the individual triathlon titles in the New Zealand race. Next weekend they are back to defend their titles in the event they say is one of the best on the Xterra global calendar. Allen, 28, who has a background in surf lifesaving ironman, and Slack, 29, who grew up as a competitive swimmer, love competing and winning together.
We caught up with the elite couple, who are living their dream of competing around the world.
Q: How does this event rate on the global calendar of Xterra events?
BA: Xterra Rotorua is one of the best in the world, if not the best in the world.
It offers a very scenic venue whilst pushing your body to the limit and enjoying the opportunities Xterra has to offer. Being part of the biggest Xterra race on the planet is an amazing experience. The whole event captivates the true spirit of the sport and everything about the event is world class. I also can't wait to go to the local dairy to buy a hokey pokey icecream.
JS: The mountain biking here is the best in the world, Xterra Rotorua gives you a unique opportunity to race on these well-maintained single-track trails.
Q: What did it mean to you both to win together?
BA: Coming to New Zealand I was in good spirits after winning the Asian Xterra Triple Crown. But to actually stand on the podium with my Jacqui was a dream come true and was the best reward for all our hard work.
JS: It was my first Xterra win. It was made more special because Ben won and his parents were here to see us both get on top of the podium.
Q: What performance expectations do you have for next weekend?
BA: I would love to defend my title and put on a good performance but I know that all my competitors here have the potential to win the race. I'm looking forward to getting on the start line with them for the 2013 edition on Xterra Rotorua. We go into each race fully prepared knowing we have done everything we can to perform at the best of our ability.
JS: It would be wonderful to win Xterra Rotorua again. I try to come into races feeling relaxed and ready to enjoy the experience. The mountain biking here is out of the world and I can't wait to race on this course again whatever the outcome.
Q: Is it fun running and training together as a couple?
BA: Jacqui and I share a unique situation where we are able to enjoy a healthy active lifestyle, travel the world together and experience an amazing adventure.
Q: What advice do you offer newcomers to this event?
JS: Go into the race with an open mind and enjoy the unique opportunities Xterra Rotorua has to offer. Amazing scenery, epic single track and adventurous people is what truly makes the event a huge success.
Q: Do you enjoy mixing with the weekend warriors?
BA: We love to speak with and share stories with our fellow athletes. Both of us enjoy experiencing different cultures and living as locals.
JS: It is great to meet athletes of all abilities to talk about the race. Everyone that finishes a race let alone an Xterra race is inspirational. Xterra is physically and mentally challenging - just finishing the race you are automatically a winner.