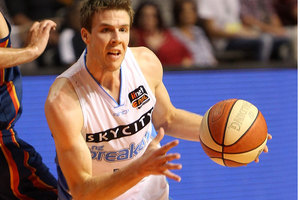 For all that is familiar about the Breakers facing the Wildcats with the season on the line, the home side can still spring one surprise on their fierce rivals - a fully fit Tom Abercrombie.
The two titans of the Australian NBL will renew hostilities at Vector Arena on Sunday afternoon and the Breakers are set to unleash a not-so-secret weapon in their search for another championship.
Abercrombie was one of the Breakers' best during the last campaign but the reigning champions were forced to defend their crown against Perth without enjoying a full contribution from the local product.
They managed just fine, of course, with Abercrombie making a limited impact while feeling the effects of a hard foul in the semifinal series. He sat out game one before being restricted to 18 points across the final two games, with a wrecked ankle preventing him for playing ``like myself''.
Abercrombie doesn't feel as though he missed out on the party altogether - and he did play an hour in games two and three - but there is no denying the impact an uninhibited Abercrombie can make on a clash seemingly poised on a knife edge.
That ankle is still short of 100 per cent but it is healthy enough to be banished from Abercrombie's mind, something which should serve as a warning to the men from West Australia.
``I feel like I still was able to have an impact on the games and on the result last year,'' he said. ``But this year I'll be able to play a bit more like myself, which is great.
``But my focus is just going out and winning - I'm not thinking too much about myself right now.''
There won't be too many Breakers with nagging personal storylines distracting them from the main plot. For once, the Breakers have a clean bill of health at the most important time of the year, with Will Hudson showing no ill effects from his long-term knee injury in the semifinal sweep over Sydney.
Instead, it is Perth whose doctor has denied them a full complement as they attempt to wrestle back the crown they once owned. Damian Martin, the pesky guard who always plays the Breakers tough, will be on the sidelines with an Archilles tear, leaving a significant hole in the Wildcats' back court.
Abercrombie didn't expect the casualty ward to be a major factor in the series and he was wary about the potentially positive effects Martin's injury may have have for Perth.
"Obviously, Damo's a big loss for them,'' Abercrombie said. "He's the defensive player of the year and a big part of what they do. But, I think the way they play, guys will be able to come in and step up and still play the style of basketball that they play.
"And a bit of adversity can sometimes bring you closer together and motivate the troops, so I'm sure they'll be trying to do it for those guys.''
As for his own ailment, Abercrombie hoped some extended rest in the off-season would be enough to return the joint to its pre-injury state. But, in the meantime, he was just thankful to have another chance to impress in front of his home fans.
"To be able to do that on my back doorstep, where I grew up, is pretty special,'' he said. ``It's been a fantastic ride but we want to keep it going. We can't rely on last year or the previous year to get us over the line - it's a fresh start in this grand final series and probably our hardest challenge of all three.''
- APNZ