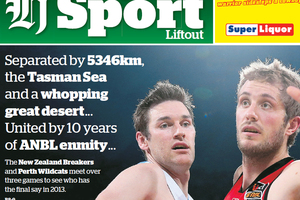 A brief look at the sports stories that are making news this morning.
In the paper
Inside the Breakers-Wildcat rivalry
The Herald's SuperSport liftout leads with a look at the rivalry between the New Zealand Breakers and the Perth Wildcats ahead of the ANBL finals series. What started in a Christchurch carpark in 2004 has developed into the biggest rivalry in Australasian basketball, writes Michael Brown.
Going the distance
Most traditional rivalries are derbies, played out by two near neighbours, but in this case they're separated by 5346km, the Tasman Sea, a desert and three time zones.
New allegations add fuel to feud
This international cricket season will have a permanent stink attached to it.
The 2012-13 season is heading down a similar path to the 1994-95 'Sex, drugs and rock 'n' roll' tour, writes David Leggat on the back of new allegations surrounding the Ross Taylor Black Caps captaincy saga.
They said it:
"NZC utterly rejects the attack made on Brendon McCullum. At no time was Brendon McCullum in any way personally involved in the replacement of Ross Taylor as captain. Brendon behaved honourably at all times in this matter," a New Zealand Cricket press release said.
Will the real Ma'a Nonu step forward - he's needed
Ma'a Nonu has the power, the skill and the talent, but somehow there always seem to be questions about when they're all going to come together and reignite into his world-beating form, writes Wynne Gray ahead of the Highlanders clash with the Blues tonight.
Did you know?
Nonu has played 76 tests and started 52 of them in the No 12 jersey - the most by any All Black second five-eighths.
Overnight news
Former Phoenix player fails drug test
Former Wellington Phoenix defender Troy Hearfield is facing up to a five year ban from football after failing a drugs test, according to media reports.
The Daily Telegraph newspaper reports that the Australian, who currently plays for the Central Coast Mariners, failed a drugs test which had traces of a recreational drug.
New cricket law
If a bowler breaks the stumps at the non-striker's end during a delivery, umpires will call it a no-ball from April 30 in all international cricket.
Fast tracked
Although Marylebone Cricket Club wanted to introduce the new no-ball law from Oct. 1, the ICC wanted to introduce the new playing condition as early as possible.
Armstrong's sporting return is a bellyflop
Yesterday Lance Armstrong said he's keen to compete in masters swimming events. Today, not so much.
He's got talent
Armstrong had the second-best qualifying time in the 1,000 freestyle and No. 3 in the 1,650- and 500 freestyle events.
Toure signs long term with City
Manchester City midfielder Yaya Toure signed a new four-year contract with the English Premier League champions overnight.
What's the deal?
According to some reports he'll be earning just over £500,000 a month ($NZ904,000).
Hot goods
If you've got to feel for a multimillion dollar earning sportsman today make it NBA star Chris Bosh. Bosh, while celebrating his birthday at a Morocco-themed party complete with 'live camels', had his house robbed of $400k worth of jewelry.
Coming up on nzherald.co.nz:
Lydia Ko is currently on the course in her opening round at the Kraft Nabisco Championship. Look out of a report in the next few hours.
Tracey Nelson crunches the numbers ahead of this week's Super 15 action with her Stats Don't Lie blog.
Live blog of tonight's Super 15 encounter between the winless Highlanders and the Blues at Eden Park from 7.20pm.
Tweet of the day
Hampshire Cricket (@hantscricket)
Good news... players are back out playing after our snow flurry. We are batting after @surreycricket made 99-0.