The dilemma over former cricketers; Hansen on board; and rugby debates big issues.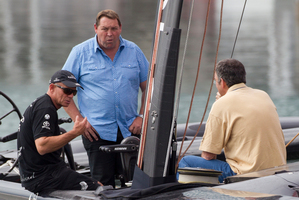 OK, hands up, we at Supershorts Towers thought that having a few former players on the board of New Zealand Cricket was a terrific idea... until John Parker came along.
Hansen finds his sea legs
The increasingly user-friendly Steve Hansen hopped aboard Team NZ's boat during their last day of sailing on the Hauraki Gulf before shipping out to San Fran, leading some observers to note that foiling might be more difficult with the ABs' coach on board.
Sun has a laugh
More fun from those at the Sun. Manchester City's occasionally wayward star striker Carlos Tevez was fined and given 250 hours community service after being caught driving while disqualified and without insurance - a subject tackled with typical sensitivity by Sun subeditors.
Rugby's big picture
Rugby must be in rude health when the authors of the august Rugby Almanack highlight socks being run only a wee way up the flagpole while the anthems are played as the biggest issue facing the sport.
Tweet an April Fool
A tweet from Cedric Jackson's account on the night the Breakers sealed their semifinal win over Sydney suggested it was a bittersweet moment, as the point guard was leaving for the US. It was intended as an April Fool's joke, but Jackson quickly saw the potential for rampant speculation and deleted the missive. "I didn't want all the attention about that. I told them to take it down... [If people saw it], hopefully they knew it was an April Fools."
Bad move
Chivalry is dead in American baseball. As a couple were enjoying some hospitality in the centrefield seats at Chase Field, they watched Cardinals shortstop Peter Kozma launch a home run into the seats. As the ball began to drop, the man jumped out of the way only to see the ball smash his female companion in the face. The commentator summed up the situation nicely: "Nice going, boyfriend."
A true all-rounder
Ravindra Jadeja, the India allrounder, has hit the headlines recently for his uncanny ability to dismiss Australian superbat Michael Clarke. Yet, according to cricket blog The Buzz, that paled to some of his lifetime achievements. A sharp-eyed spotter noticed Jadeja's Wikipedia entry included the following description: "A philanthropist, a Nobel Prize winner, a double Laureus sportsman of the year, and the nearest human to god." As editors always like to say, it pays to double check when you're using Wiki.
Forgetful Di Canio
Paolo Di Canio, 2013, after being named Sunderland manager: "I feel that I should not have to continually justify myself to people who do not understand this, however I will say one thing only - I am not the man that some people like to portray. I am not political, I do not affiliate myself to any organisation, I am not a racist and I do not support the ideology of fascism. I respect everyone."
Paolo Di Canio, 2005: "[I am] a fascist but not a racist."