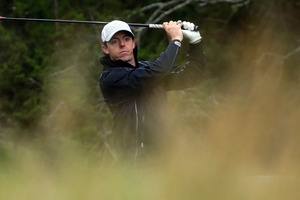 Imagine the surprise of the paying customer at Miami Municipal Golf Course a few weeks ago who looked over to his left and saw Rory McIlroy, still at No 1 in the world and a two-time major champion, plop down a carry bag with a Manchester United logo.
"Why was that such a big deal?" McIlroy asked with a mixture of amazement and bemusement.
He made the cut on the number at the Houston Open last week - his first cut against a full field this year - and was making a run up the leaderboard in the third round when he three-putted for bogey from 1m on the par-5 13th hole. McIlroy dropped two more shots and returned toward the bottom of the pack.
After lunch, it was back to work. He could have sought privacy at the far end of the range. Instead, he set up shop in front of a grandstand where 30 people took a seat to watch. Tom Gillis, a runner-up to McIlroy a year ago at the Honda Classic, came over and gave Boy Wonder a playful push.
McIlroy was hitting driver toward the end, picking out a barren tree on the horizon as a target for his draw. He was getting dialled in when caddie J.P. Fitzgerald said, "End it with a good one."
The shape looked to be perfect, and the caddie said, "Beautiful."
"One more," McIlroy said with a smile, and then he hit that one even better.
He tied for 45th in the Houston Open, and while that would normally be considered a pedestrian week, he considers it progress. He signed up for the Texas Open this week, wanting more competition before going to the Masters.
Perhaps more telling was how much happier he looked than in recent weeks. That wasn't the case at the start of the year.
McIlroy is no stranger to attention and he brought that on himself. Winning the US Open with a record score. A relationship with Caroline Wozniacki, who was No 1 in women's tennis when they first started dating. Winning the PGA Championship by a record eight shots. Climbing to No 1 in the world, and then winning three more tournaments against the strongest fields, made it look as if the kid would stay on top for years to come.
And yes, the Nike deal.
With blaring music and a laser show in Abu Dhabi, he was introduced as the latest global star to market the swoosh and made a commercial with Tiger Woods. Then, he plunged into a slump. That's not unusual for McIlroy, except the expectations have never been this great, the number of eyeballs on him never this many.
A year ago, there was one stretch in the late spring when he missed the cut in four of five tournaments.US This year, he missed the cut in Abu Dhabi, lost in the first round of Match Play and quit out of frustration after 27 holes of the Honda Classic.
In Houston, his shoulders never sagged even as he was on the verge of another weekend off.
Asked what will be written about him at the end of the year, a smiling McIlroy said: "Hopefully, the same things that were written about me at the end of last year."
There's a phrase back home in Northern Ireland that goes, "Catch yourself on," which loosely translated means wise up or don't get a big head. McIlroy, who turns 24 next month, concedes that has been put to the test this year.
He also is guided by wise words from his father, Gerry, who tells him it doesn't cost anything to be nice to people.
That remains his hallmark.
- AP