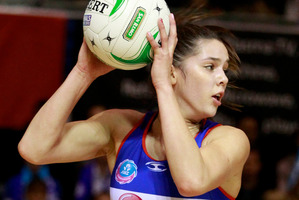 Silver Ferns coach Waimarama Taumaunu is closely monitoring the workload of Mystics utility Kayla Cullen this season.
The loss of several experienced players has elevated Cullen to a key member of the Auckland side this year as she faces the added challenge of switching from the defensive end to the midcourt.
With the retirement of Temepara George and loss of Charlotte Kight to injury, the Mystics are light on experience in the middle, placing a heavy burden on Cullen to get up to speed in her new role.
A lot will also be asked of her during the international season, with the young Silver Fern selected in the New Zealand under-21 side for this year's World Youth Championship in Glasgow.
Following the transtasman league season, Cullen will link up with the under-21 side to prepare for the World Youth Champs in August - an intense week of tournament play that will require strong conditioning from the athletes.
Cullen, who was first selected in the under-21 side at 16, meets eligibility criteria for the world tournament as her birthday falls just after the January 31 cut-off date.
Her presence in the New Zealand junior team will no doubt be a concern for rival teams, with Cullen's rare athletic talents making her a standout at that level. But Cullen's involvement in the under-21 campaign has also created complications for Silver Ferns management.
Taumaunu said Cullen's workload will have to be carefully managed this year, and it is likely the youngster will have to sit out some of the Ferns' commitments this year.
"The bottom line is, if Kayla plays the whole lot there'll be very little time for her to rest before next year's Commonwealth Games," said Taumaunu.
"We'll have to assess how she's feeling when she comes back [from Glasgow], and then look at what series will be best for her."
Netball New Zealand have yet to announce the Silver Ferns full international programme this year, with only a five-test Constellation Cup series against Australia confirmed. They are expected to play a three-test home series - possibly against Malawi - in October, before the Fast5 World Series in November. A tour to England in January next year has also been slated.