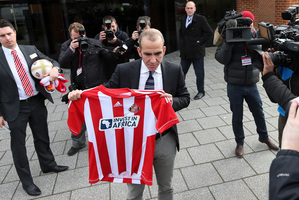 Can someone who has admitted to supporting fascism manage a Premier League team?
That question has engulfed English football since Paolo Di Canio was hired by Sunderland on Sunday.
Within seconds of Sunderland trumpeting Di Canio's appointment, vice-chairman David Miliband, a former British Foreign Secretary, responded by quitting the club in protest at the new manager's "past political statements".
The clearest was: "I am a fascist, not a racist."
There was also the straight-arm salute Di Canio performed in 2005 in front of his Lazio team, which prompted Fifa to rebuke the Italian.
Di Canio's arrival into management in the world's richest football league has revived the controversies that followed him during a colourful playing career largely spent in Britain and Italy.
One of his first jobs on Tuesday was to meet with the Nelson Mandela Foundation, a partner of Sunderland, which wanted to discuss the row and seek assurances from the club about its commitment to fighting racism.
While Sunderland chief executive Margaret Byrne said yesterday it was "insulting" to accuse Di Canio of "having fascist sympathies," the manager himself is refusing to distance himself from his past support of fascism.
In a heated media conference yesterday, Di Canio was repeatedly asked if he was a fascist. Each question was rebuffed by the former striker.
"I don't have to answer any more this question," he said, pointing to a statement in which he denied being racist without addressing whether he is a fascist.
"My life speaks for me, so there is no need to speak any more about this situation because it's ridiculous and pathetic. I can't every two weeks, every two months, every 10 months answer the same questions that are not really in my area.
"We are in a football club and not in the House of Parliament. I'm not a political person. I will talk about only football."
Di Canio was hired a day after Martin O'Neill was fired following a 1-0 loss to Manchester United, which was designated "Nelson Mandela Day" at Sunderland to mark the new partnership with the hospitalised anti-apartheid leader's foundation.
Di Canio joined team executives in a meeting with the Nelson Mandela Centre of Memory's Sello Hatang, who confirmed they discussed "the public debates around Sunderland's new coach".
"At the heart of the partnership [with Sunderland] is a commitment to our founder's values with a special focus on human rights and anti-racism," Hatang said.
English football's anti-racism group, Kick It Out, was more explicit, asking Di Canio to clarify his political beliefs and warning that its activities can be "compromised by inappropriate statements".
When Di Canio was given his first managerial job by Swindon in 2011, a leading trade union withdrew its sponsorship of the English club over his past expression of admiration for Italy's former fascist dictator Benito Mussolini.
And union activists in northeast England responded to Di Canio's arrival at Sunderland by expressing unhappiness at the fascist sympathies of the man who has played for Juventus, Napoli, AC Milan, Celtic and West Ham among other clubs before retiring in 2008.
Durham Miners' Association General Secretary Dave Hopper, who worked in a colliery where Sunderland's stadium now stands, said Di Canio's appointment "is a disgrace and a betrayal of all who fought and died in the fight against fascism." AP