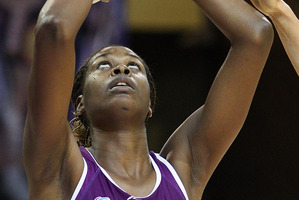 Queensland Firebirds 58
Central Pulse 56
All the preseason talk coming from the Central Pulse is beginning to look like just that - talk.
Once the joke of the transtasman league, the perennial strugglers have managed over the past two seasons to build (and buy) a team they believe are strong top four contenders.
But the Wellington team looked like the same inconsistent Pulse of old last night as they blew a handy halftime lead against the Firebirds to slump to their sixth straight loss to the Queensland side.
After disappointing in their season-opener against the Adelaide Thunderbirds, it was thought the Pulse would be much more lively in their first match at home. But as was the case last week, their energetic start soon fizzled out into a lethargic and error-ridden second half.
The Pulse dictated the pace at first, some clever defensive play from Te Huinga Reo Selby-Rickit and captain Katrina Grant upsetting the rhythm and timing of the feed to Firebirds super-shooter Romelda Aiken.
Playing a safe, conservative style on attack, the Pulse capitalised on the ball being won on defence to open up a 14-11 lead at the first break.
The home side extended that lead out to seven goals midway through the second spell as the defence continued to force errors from the Firebirds, but with the Pulse unable to generate speed and length to their attacking play, every goal seemed like a grind.
The Firebirds began to find their fluency on attack, to cut the Pulse's lead to 29-25 at the long break.
Queensland coach Roselee Jencke told her side to ramp up the aggression in the third period as they tried to harry the Pulse into attacking errors. Their physicality bordered on foul play at times, and Laura Geitz was lucky not to be warned after throwing her elbow into the back of Donna Wilkins. The ploy worked to unsettle the Pulse, and their frustration resulted in a couple of very soft turnovers.
As the match wore on and tiredness set in, the Pulse's through-court defensive intensity lapsed and the space began to open up for the visitors in their attack end.
With very little pressure being put on out front, Grant was powerless to stop the long bombs being fired into Aiken.
The 1.96m Jamaican shooter helped her side to a 42-40 lead heading into the final turn, which soon stretched out to five midway through the period - which proved too big a deficit to recover from.