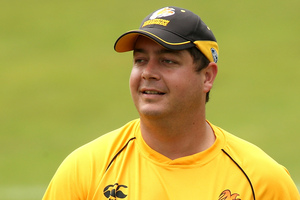 Rap artist Scribe has apologised to bashed cricket star Jesse Ryder, who is now back on his feet and walking around his hospital room.
The 28-year-old was allegedly punched and kicked outside a Christchurch bar after a season's end night-out with Wellington Firebirds' teammates last Wednesday.
After spending two days in an induced coma with a fractured skull and punctured lung, he was moved out of the intensive care unit at Christchurch Hospital yesterday (Sunday), and is now in a stable condition in a ward.
While he still has no recollection of the attack, he's able to stand up, walk around, and talk cricket with his manager.
He's even speaking of his disappointment at missing out on showing off his world-class cricketing abilities at the IPL competition which starts this week. "He was very excited about the IPL. He saw it as a great opportunity to get back on the world stage and do what he does best," said Ryder's manager Aaron Klee, who flew to Ryder's bedside within hours of the attack.
Mr Klee is amazed at how much Ryder's condition has improved over the Easter holiday weekend.
"It's been remarkable to see how someone can go from the state he was in to where he's at now," Mr Klee told APNZ.
"He's up on his feet ... he can walk around the room, but he's still very weak.
"He continues to get better and build his strength. He's still got injuries but we'll continue to work through them. It's just time and rest from here."
However, Ryder has a lot of recovery work to do before he can pull on the pads again, Mr Klee said.
"He's had a very bad concussion. The lingering effects of that won't be known until they wear off, so there's a lot to be determined before we can think about getting back on the park."
But after seeing how much fight and resolve he has, Mr Klee wouldn't be surprised if Ryder made a full recovery.
"There's a very strong drive within Jesse," he said.
"It helps him, makes him who he is, and probably contributed to his ability and success as a cricketer.
"You never want to see someone you're close to in a coma and on a ventilator. That doesn't spell good news normally. But I always had a belief. They ruled out a couple of very bad things early on, and I had confidence in him.
"He's already talking about cricket. He's bitterly disappointed not to be in Kolkata (Knight Riders) right now preparing for the first game against Delhi in a couple of days' time."
A spokesman for the hospital said Ryder's condition was "still improving".
Scribe has apologised to Ryder after suggesting he may have provoked the attack.
The Christchurch rapper caused outrage when he posted on Twitter that Ryder must have said something before the assault took place.
"Cantabrians don't beat people up for no reason," Scribe said.
His manager Aaron Klee avoided the Scribe controversy, saying: "It's the least of my worries at the moment, and I don't have anything to say about that."
Following the attack, Scribe tweeted to his more than 4000 followers saying: "I'd like to know what Jesse Ryder did or said. Cantabrians don't beat people up for no reason."
He followed this by two more tweets saying he genuinely wanted to know what happened, and when people aren't humble and look for trouble they tend to find it.
"No-one gets beaten up for nothing," the 33-year-old said.
"But if u come to Chch and act a certain way and are not humble and start looking for trouble ... u will find it."
The comments angered some twitter users who defended Ryder.
But now, Scribe - whose real name is Malo Luafutu - apologised to Ryder and claimed that his comments were blown out of proportion and context.
"I never said violence is ok nor do I condone what has happened. Please dont put words in my mouth," he said.
"I never insinuated Jesse was the blame. Just asked a question.. And wanted more information regarding the incident.. Im just a rapper.. lol.
"For the record @dijaryder God speed ur recovery & u of all people kno what our media are like.. Apologies if I offended u in any way. 1Love."
He accused the New Zealand media of exaggerating his claims, tweeting: "Once upon a time there was a molehill."
Two men, aged 20 and 37, have been charged with assault over the attack on Ryder, and will appear in the Christchurch District Court on Thursday.
Ryder will be interviewed by police in the next few days.
- APNZ