Addington winner will meet world's best trotters in Elitlopp next month.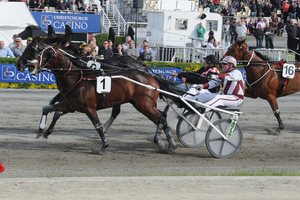 Two of the rival trainers behind the group one stars at Addington on Saturday night are heading to the Northern Hemisphere next month - and one of them is taking his horse.
Terror To Love and Vulcan continued their love affairs with Addington in their respective features, Terror To Love bolting away with the $100,000 Easter Cup and Vulcan toughing out the NZ Trotting Championships.
While Terror To Love's win was effortless after he reached the lead in the middle stages, Vulcan's win was all about heart.
Less than a week after winning two group ones in a night in Melbourne, Vulcan had to race out of his comfort zone to sit parked and win on Saturday.
That showed the little horse has developed the all-round game to beat fields of real quality and that is exactly what he is on a collision course with.
Because what seemed impossible just a few weeks ago now looks certain, with Vulcan heading to Sweden to take on the world's best trotters.
The trip was all but confirmed by Saturday night's free-for-all win after some intricate planning on Friday night.
Firstly, trainer Tim Butt and Vulcan's owners, who include Tim's mother, Jenny, received an official invitation to complete in the Elitlopp in Stockholm on May 26.
Swedish trotting associations will pay their accommodation expenses once they get there, while wealthy Australian trotting enthusiast Michael Taranto will contribute a significant five-figure sum to help defray travel expenses.
"Once all that fell together it made the trip a lot easier and then all we needed him to do was come out and win this race well," said Butt.
"He did a great job when you consider how much he has raced in the last month at the highest level. He has never raced better and I think he deserves his shot.
"Sure, he may not be as good as some of the horses he is going to take on up there, but the way it is all falling together he won't need to win much to make back our end of the expenses."
So Vulcan is booked to leave New Zealand on April 17 and be flown to Amsterdam where he will be based for two weeks before driver Anthony Butt heads north to accompany him on the 16-hour float trip to Stockholm.
If any horse can handle that it should be Vulcan because he has now raced six times at group one level in three different cities in 27 days, winning five of them.
"It really is the trip of a lifetime and Mum and the other owner are keen to go so we are planning to be there," says Butt, who took Lyell Creek to the Elitlopp in 2001.
While Butt is taking his tiny trotter to Sweden, fellow Canterbury trainer Paul Court leaves for Canada next week but won't be taking his pride-and-joy Terror To Love.
The wonderful pacer bounced back to his best, aided by an aggressive Ricky May drive, in the Easter Cup in his last start with Court as a co-trainer. Court is leaving to start a training career in Canada, where his wife originally hails from.
"It is something we decided to do together and I am excited about the new challenges up there," says Court, whose father Graham will now train Terror To Love on his own.
"Sure, it is hard to leave this horse behind but he has given us a great ride and I will come back in November to see him at Cup time."
Before then Terror To Love has the pressing assignment of trying to secure the Australian group one glory needed to embellish his stud career there.
So he will return to Sydney, where he has yet to win in three starts, for the Miracle Mile on April 28.
Because only horses who contest preludes in New South Wales can be invited to the Mile, he will also have to race at Menangle a week earlier as well.
Winners winging it
*Vulcan is confirmed as heading to Sweden to take on the world's best trotters.
*He sealed the trip with a dominant win at Addington.
*It was his fifth group one win in 22 days.
*Terror To Love destroys his Easter Cup opponents, before co-trainer Paul Court moves to Canada.