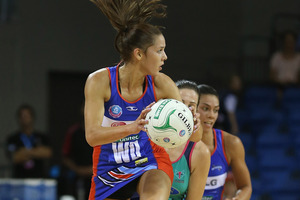 Vixens 58
Thunderbirds 44
Fever 80
Mystics 53
The Northern Mystics were left shellshocked in Perth as their defensive frailties and lack of depth were laid bare by a rampant West Coast Fever today.
After showing promising signs early on in their season-opener against the Vixens last week, the trip across the Tasman brought out the worst in the Mystics, with the visitors displaying an embarrassing lack of defensive and mental fortitude.
Just 24 hours after the Steel set a scoring record in the transtasman league with their 75-goal tally against the Tactix, the Perth side bettered that, sinking 80 goals.
The Mystics meanwhile set an all-time low, with the 27-goal loss their worst in the franchise's history.
The signs were there from the outset that it was going to be a forgettable afternoon for the Auckland side, as they clocked up more turnovers than goals inside the opening five minutes.
The Fever had no problems capitalising on the early blunders, finding easy passage to goal as the Mystics struggled to slow the home side on attack.
And that was to be the story of the match - a seemingly endless procession to the Fever goal.
The loss of experienced defenders Anna Harrison (pregnant) and Charlotte Kight (Achilles injury) in the preseason has undoubtedly left a gaping hole in the Mystics defence.
But their struggles in Perth cannot simply be put down to a lack of understanding between the new combinations. The team lacked commitment, intensity and defensive nous against the Fever.
Jessica Moulds, who picked up some good ball against the Vixens last week, looked like a schoolgirl against Australian international Caitlin Bassett. The 1.93m shooter was rarely challenged in the air, allowing the Fever attack to use the same basic attacking move over and over.
But it wasn't just the in-circle defenders who struggled, with the Mystics allowing the
"We certainly didn't put enough pressure on them," Mystics care-taker coach Ruth Aitken said.
Trailing 23-13 at the first break, Aitken opted for widespread changes, with Kayla Cullen moving from centre to the defensive circle, Julie Corletto to wing defence, Grace Rasmussen to centre and rookie Elisapeta Toeava injected off the bench at wing attack.
But the changes only created problems in other areas, as the attacking line-up struggled to gel.
But the fact 19-year-old Toeava was favoured over incumbent Silver Fern Bailey Mes doesn't say much of her chances for re-selection later this season, although Mes did get a chance, replacing a frustrated Cathrine Latu at goal shoot.
Latu was pulled in the final quarter after drawing five offensive penalties for pushing off defenders.
In yesterday's early game, the Melbourne Vixens ran out convincing 58-44 winners over fellow Australian heavyweights Adelaide Thunderbirds.
- APNZ