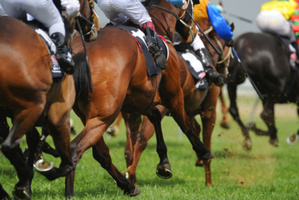 A new No 3 haircut was displayed when Mark Du Plessis removed his skullcap when returning on Recite at Awapuni on Saturday.
It was nothing compared with the haircut he and Recite had just dealt out to the others in the $225,000 The Oaks Stud's Stallions Sire Produce.
"That was her most impressive performance," said Du Plessis, who has said after each of the previous three unbeaten performances she is the best filly he's ridden.
Recite is so good Du Plessis admitted later his only worry had been pilot error. "I was a bit anxious because I knew I was the only one that could get her beaten."
There was no way that was happening.
It was wonderful that owner, Queenslander Dick Karreman was on course.
He and manager Rick Williams have, in recent years, decided Karreman's The Oaks Stud would race a large team under its own banner and the past 18 months have been increasingly successful.
With Recite to return as a 3-year-old and the likes of Zurella and Oaks victor Artistic still to come this season, The Oaks has plenty to look forward to. Another huge plus is the recent dramatic success of the stock of the stud's resident Darci Brahma.
Mark Du Plessis: "She [Recite] will be better as a 3-year-old next season", which is a worry for the owners of fillies.
John Bary has prepared Recite meticulously and the benefits of a relatively light season will be, hopefully, there for all to see in the spring.
Bary scored another stunning victory on the programme, when Survived raced away with the $70,000 Manawatu Classic.
Survived got his name from being so small it was considered putting him down as a foal.
He displayed the same attitude that got him through to being a racehorse when he dropped rider Jonathan Riddell heading to the start and galloped away. Almost always these days horses who gallop free away from their riders are deemed late scratchings.
"The vet wanted to scratch him at the start, but I convinced him he felt all right," said Riddell.
Bary has to decide whether to aim Survived at the Queensland Derby or the South Australian Derby, slightly favouring the latter.