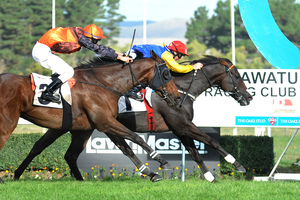 It might have been Jason Bridgman's most satisfying day training, but it wasn't without balance.
Stewards grilled the Matamata horseman after Better Than Ever won Saturday's $85,000 Lawnmaster Awapuni Gold Cup.
The stewards had questioned the Matamata horseman as early as Tuesday about nominating Better Than Ever for the 2000m Gold Cup and also the 1400m Fairdale/Goodwood Studs Flying.
Racing's bosses wanted to ensure Bridgman had not entered the former Singapore champion for the shorter race simply to ensure stablemate Burgundy got into the 1400m event, which he won, on a lighter weight.
At the conclusion of the interview Bridgman was advised that the stewards had significant concerns regarding this matter and that investigations would continue with respect to a perceived breach of Rule 526 of The Rules Of Racing.
Rule 526 states a trainer cannot nominate a horse for a race with the specific purpose of affecting the handicapping of that race.
Steward Ross Neal said penalties in such a case would be difficult to determine. "I am not aware of such a case being proven in recent history."
Regardless of the inquiry, this was a masterly piece of training by Bridgman, who had been under pressure with both top horses.
"Better Than Ever was a real icon in Singapore. Everyone in Singapore has watched and cheered his handful of starts here and with that comes huge pressure.
"It was marvellous to break through for his first win here. He might have a few issues through wear and tear, but he's a lovely horse and a very talented one."
Bridgman has yet to finalise Better Than Ever's final seasonal target, either the Canterbury Gold Cup or the Stradbroke in Brisbane.
There was even more pressure on getting Burgundy over the line on Saturday. The handsome stallion won only narrowly, but it was a victory against adversity.
Burgundy was attacked in the lead almost throughout and had to dig extremely deep. "He loves a scrap.
"Now that he's at 1400m the horses aren't dashing at him like they can at 1200m and it gives him the opportunity to turn it into a fight."
Rider Matt Cameron was also impressed.