Chiefs happy to emulate kind of character that created Crusaders dynasty.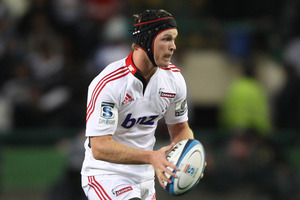 Five-eighths Tyler Blyendaal stepped up for the Crusaders with Dan Carter out of action. Photo / Getty Images
Successful rugby sides develop a strong mental resilience and deliver as the battered Crusaders did across the globe in Cape Town.
The Chiefs found that edge to win the Super 15 title last year and are showing those champion qualities once more.
They quelled the budding Blues before coach Dave Rennie acclaimed the type of Crusaders rugby dynasty his group wants to emulate.
Without Richie McCaw, Daniel Carter, Kieran Read and Israel Dagg at kickoff, the Crusaders lost tighthead rock Owen Franks and wing Johnny McNichol in the first quarter as they conceded an 11-point lead to the Stormers.
An hour later the usually reserved Todd Blackadder was punching the air in the coaches' box after his side's remarkable 19-14 win.
This victory will rate alongside some of their bravest as they showed the qualities which have them as the only side in the tournament history to win more than 50 per cent of their offshore matches.
The medals have not come in Blackadder's tenure and the Crusaders began this season with two rocky defeats. Performances in Africa were going to be mental markers.
Young men like backup five-eighths Tyler Bleyendaal needed to measure up. The 22-year-old did. He kicked some crucial goals in the tricky wind conditions and kept a chokehold on the Stormers with his tactical kicking as he guided the Crusaders around the park.
"That win was a testament to the Crusaders' character," Chiefs coach Dave Rennie said. "It was really gutsy.
"They are good at that though, aren't they? They win games when they are missing key people and have a history of winning over in South Africa and that is probably why they have won a lot of championships."
The dramatic win for the injury-hit Crusaders and a cross-border victory for the Chiefs have pushed them ahead of their New Zealand conference rivals.
Rennie believes his squad has the sort of consistent mental edge which has marked the Crusaders' history and blossomed in Cape Town.
"I think we have got it. If you look at this win the group of guys were working hard for each other.
"Even if you don't get things right you know the guys are going to hang in for 80. I know within our community the guys have gained a lot of respect for the fact that they will fight for 80,whether they win or lose, and if you do fight for 80 you will get a lot more consistency with results."
Rennie felt the Chiefs had dispelled any misgivings about their pedigree. The coaching staff and players never doubted their ability and had brought the public along for the ride, he said.
"We had pretty high expectations last year but I am not sure if the rugby public had the same expectations of us," he said. "The good thing is we have raised some expectations and even when we win, if we don't excel, people are questioning how well we have played and I think that is a good thing. We have raised the standards, raised the expectations anyway.
"If you front for a big game one week then perform poorly the next, you are going to struggle to get people behind you or believing in you. So we learned the big thing is we have to front for 80 minutes every game, win or lose."
Fans and supporters were repaying that hard work. The Chiefs worked overtime in the analysis room, the gym or out on the training field because they realised there were no shortcuts to success.
"They are aware if we want to be the best we have got to be prepared to push ourselves and work harder than the rest of them," said Rennie.
"I think we see that attitude on the field. Now it's nice to have a couple of days to reflect on that and watch everyone else beat each other up in the next round."