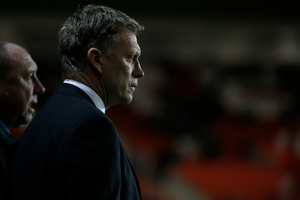 David Moyes, the Everton manager, says his future at the club will be determined by his post-season transfer budget.
Moyes, who has delayed a decision on his future until the end of the season, offered a slightly more positive overview of his longer-term position on Merseyside as he confirmed ongoing discussions with his board.
The Scot said he wanted to establish how much money would be available to invest (or reinvest in the likely event of at least one major player sale) before the start of next season.
Moyes said: "I've been given some indication of budget but I've not been given the breakdown of it. I've been speaking to the chairman for three or four months, it's been moving along, and all the things I'm doing are for the best of Everton, that's what I'm trying to do, make the right decision for Everton.
"I know what we are capable of, we have a really good squad, a small squad but one that is getting older and we need to replace that and change it around.
"I hope to have a clearer picture of what will happen and I wouldn't have thought that would be too much to ask for really, I wouldn't have thought that was a bad request. If people say it is best for Everton Football Club that I stay, then I would agree - I genuinely believe that as well. But I have to make sure that Everton has the best opportunity to try and continue where they are and push on from where they are."
Meanwhile, Stoke manager Tony Pulis is facing the flak, too, and is also waiting on transfer fund promises - in spite of overseeing Stoke's most successful period since Tony Waddington reigned at the Victoria Ground four decades ago. Even Waddington, who led Stoke to their only trophy with the League Cup in 1972, did not finish among the top 14 clubs in the country four seasons in succession, as they have done since Pulis lifted them into the Premier League. The last time that happened was in the 19th century.
What has changed is the fans' perception of how a team should play, a mood shift led by Barcelona and Spain. So while Stoke do pass the ball sideways at times, they play it longer than is fashionable. Stoke fans now want more than mere survival in the Premier League, they want entertainment and goals, too. Who can blame them at Premier League admission prices (even at Stoke where adult tickets are a reasonable £25-£35 ($45-$64))?
What has sparked the current wave of criticism is not, however, the quality of football but the quality of results. Eighth at the turn of the year, when they came from 3-1 and a man down to draw with Southampton, Stoke have since taken five points from 10 games, scoring six goals in the process. Pulis has made personnel changes in this run to little avail.
It has been suggested that opponents have "worked Stoke out" and that they miss Rory Delap's long throws, but they are not so one-dimensional.
Pulis has suggested the problem is simply a loss of confidence and lack of service to the strikers. A team that finds goals as hard to come by as Stoke is always vulnerable when self-belief dips but it may need arresting soon. They are seven points clear of the drop but have a tricky run-in.
Fans with long memories know how quickly a club can slide. Tony Waddington's golden team, featuring Alan Hudson, Peter Shilton, Geoff Hurst, Jimmy Greenhoff, Mike Pejic and Denis Smith finished fifth two years on the trot and came close to winning the title in 1975, but had to sell to fund repairs after the stand roof blew down and were relegated in 1977.
The playing budget is again a factor. Pulis' expertise has been backed in transfer fees and wages sanctioned by chairman Peter Coates but, as there is a limited amount that can be squeezed from an economically depressed area, this has required subsidies from the gambling tycoon, not least because Pulis tends to sign experienced players with low re-sale value and, in some cases, high wages.
Coates is keen to bring young players through the club's academy but that may take time. There is a feeling that Pulis, who has commuted from Bournemouth for seven years at Stoke, may walk away at the end of the season if he feels the club and fans are not as supportive as they were, though yesterday he insisted he would stay and "fight my corner". Agencies