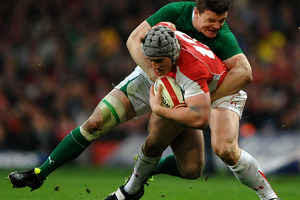 Jonathan Davies - once described by the late lamented Bill McLaren as having a tackle "like the clap of doom" - could be the man who finally takes over from Brian O'Driscoll at centre on the forthcoming Lions tour of Australia.
It is generally assumed that if the great Irish centre is fit, he will wear the No13 shirt in all the games that matter. But Davies is good enough to play the central role in the big matches.
A year ago, he was named in a variety of World XVs following an exceptional Six Nations and he was back to something like his best form when Wales splattered England all over Cardiff a fortnight ago.
His tussle with the almighty BOD could be one of the features of the tour.
"When I was growing up, I thought O'Driscoll was phenomenal," says the 24-year-old Scarlet of the 34-year-old Leinster man.
"He's still phenomenal now, but in a different way. It's the sign of a player of the highest class that he can adjust his game in really smart ways as he gets older. I found that out when we played Ireland in February. He had the better of me that day, by far.
"I played against him at the last World Cup [the two countries met at the quarter-final stage, with Wales prevailing] and I was still a little in awe of him, even then."
With the Lions looming so large - the tour party will be named at the end of April, with departure scheduled for mid-May - Davies does not pretend, as so many players insist on doing, that he has not weighed up his chances.
"Of course it crosses your mind," he admits. "Whenever you speak to someone who has experienced a Lions trip, he tells you it's the best time of his career.
"It would be a great honour, the ultimate honour, to be picked for this one."
Which brings us neatly to the events of March 16 and the band of brothers who successfully defended their Six Nations title by beating the Grand Slam-chasing English with so much to spare.
Did the occasion feel special right from the start, or did the unusual intensity of it all dawn on him gradually as the game unfolded?
"Before kickoff, I felt we were in a good place as a team. I felt good about my own game too. I'd had a couple of rough moments in that opening match against Ireland, but Rob Howley [the interim head coach] had collared me the following Monday morning and said: 'Listen, don't worry about things. We know what you can do for us, so just back yourself.'
"That reassurance meant a lot to me. I could have spent all week questioning myself; instead, I found myself playing with renewed self-belief. When we're all thinking that way, we're pretty difficult to beat."
So who were the principal movers and shakers in the dressing room? As a result of Sam Warburton's rousing halftime address, many see the flanker as the hot favourite to captain the Lions in Australia.
But Davies points out that Gethin Jenkins, the prop who took on the leadership burden against England largely because Warburton felt it might be too much of a distraction, made a valuable contribution of his own.
"He knows his stuff. To have won four Six Nations titles and been part of three Grand Slams, well, that's quite something, isn't it? There are not many around who can match that.
"And in the same way, there aren't many teams who can match our achievement in recent seasons. People still talk of the great Welsh sides of the 1970s, and rightly so, but I think we've done something special ourselves.
"It might not sink in with the public for 15 or 20 years, but this team's success is worth celebrating long into the future."
- The Independent