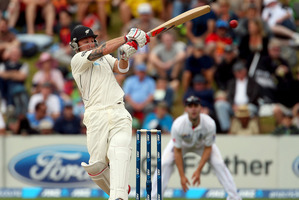 Two rain-affected no-results and a down-to-the-wire draw in the test series against England suggest the New Zealand cricket team is on the improve and things look promising for the tour to England.
It's my belief that, had it not rained in Dunedin, the Kiwis would have won and had it not rained in Wellington, they most likely would have lost - but they were far from rolling over tamely in Wellington when the rain did arrive. Their dominance in Auckland was there for all to see.
This was a team that looked nothing like the one in South Africa. There, they looked lost, but the team that played here against England appeared to have direction and belief.
The catalyst was a batting order that knows what it is about. So I'll admit I was wrong. I wanted Brendon McCullum to remain as an opener but he proved me wrong.
The job Peter Fulton and Hamish Rutherford did at the top set the tone for a top order that fed off each other.
Brendon McCullum was simply awesome in his role at six and if the top five continue to show substance, he will continue to make meaningful contributions more regularly. The middle order had an average series but that happens and they were well covered by those around them.
Ideally, this top order will retain their places through England but add Martin Guptill and Tom Latham to a touring squad, and you have a little depth in quality.
This stability is needed in England so it is vital Ross Taylor gets over the blow he feels he has suffered. The continued improvement in on-field performance, especially in such a significant place as England, has to take priority over his and his supporters' bid for justice.
As for the bowlers, well, this group continues to impress. Tim Southee showed what a resilient mind he has by bowling excellently in Auckland on the back of a poor return in tests one and two and Trent Boult is just getting better and better. Neil Wagner's aggression and huge heart provide a lovely foil for the control shown by the other seamers and how nice is it to have the quality of Doug Bracewell waiting in the wings.
If there is life in the surfaces at Lord's and Leeds, I trust this attack to do as much damage to the England batting line-up as their bowlers do to ours.
There is no hiding from the fact that Bruce Martin was disappointing on his biggest stage yet - the second innings in Auckland. But I believe he will learn and grow from that and is worth persevering with.
He was excellent in the first two tests but the respect he gained from the English batsmen didn't work in his favour after that.
He will now have to earn his wickets. He's no Warne or Murali but he's the best we have for now.