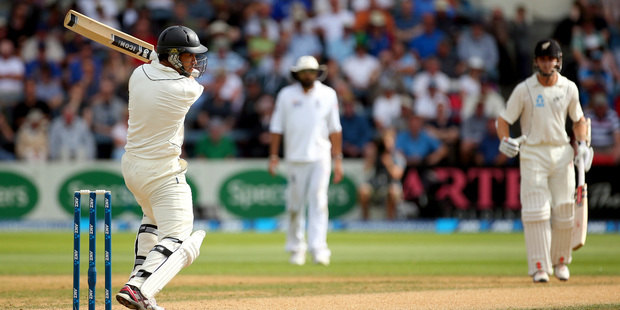 The loss of the captaincy can be directly linked to a slump in test batting form for Ross Taylor.
Taylor averaged 23.50 for the England series compared to a career average of 42.55 which has him sixth on the New Zealand all-time list (for those who have played more than 20 test innings).
He received standing ovations most times he went to the wicket - a reflection of public sympathy in the captaincy saga - but he could manage a top score of only 41 not out.
It was the first time in a year he has failed to score a half-century in a series. The last time Taylor averaged less than 30 was in the low-scoring series against Australia in late 2011.
The performance against England is Taylor's fifth worst test average across a 21-series career.
While there appeared little faith in the strategy and communication of his captaincy within the team, it is impossible to argue with his lead-by-example statistics.
When Taylor captained the team in 13 tests, he averaged 49.85; in his 33 other tests, he averages 39.91.
It can also be argued that the captaincy is an enhancer when it comes to batting. Current skipper Brendon McCullum made 248 runs across four innings against England at an average of 82.67.
In the eight innings he has had since becoming test captain (including four against South Africa), he has made 330 runs at an average of just over 41, which compares well with his overall test average of 36.29.
But all might not be lost for Taylor. Last time he went to England (after averaging 51.66 in the home series) he made his second test ton, 154 not out at Manchester.
However, his average of 48.66 was a little deceptive; he got a start in every innings but the century was the only time he went past 21.
On the upside, Taylor's one-day international batting was sound without the captaincy. He made 22, 100 and 28 to average 50, his eighth best return in 30 ODI series or tournaments.
Taylor's catching statistics have also improved since losing the captaincy. In 25 test innings as the fielding skipper, he took 16 catches (0.64 dismissals per innings).
Compare that to matches where he could concentrate solely on the ball rather than field placings - he has 58 catches in as many innings. That statistic of one catch per innings is among the best of any non-captain in test history. His three catches on the final day of the third test against England, including two off Kane Williamson in the fourth-to-last over, showcased his enduring temperament and talent, particularly in the slip cordon.