Signs suggest there are more bumps to come in the captaincy saga.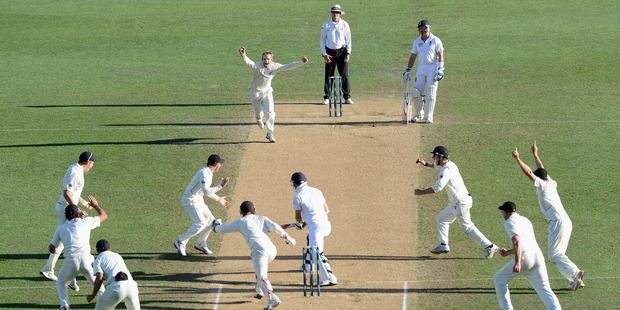 An awkward moment preceded the final overs in New Zealand's third test draw against England. At 304 for eight, Jimmy Anderson offered a catch to Ross Taylor at first slip off Kane Williamson.
Taylor accepted the edge and ran towards point, grasping his prize. The team did not follow. Instead, they mobbed Williamson and geed themselves up for what would be 19 balls of the most scintillating test cricket seen in this country.
Too much might be read into that post-wicket body language but it seemed symbolic of what has happened over this test series, the first Taylor played since his exit as New Zealand captain.
Taylor, because he still feels betrayed by coach Mike Hesson, has isolated himself in a team which shows signs of renaissance.
The evidence came with his Radio Live interview last week when he said: "I wouldn't say I'm as comfortable as I'd like to be ... over the next couple of weeks or months, things might get told."
The 'things' appear to be assistant coach Bob Carter's apology to Taylor - an apology for what's understood to be the timing rather than the action - for his demotion as captain. Carter's initiative, believed to have been done with the best intentions, threw Taylor during the second test. He made his second golden duck in 84 test innings and eked out an unbeaten 41 in the second innings, but the vitriol in the wake of the captaincy saga had been stirred.
If Taylor has further admissible evidence that he feels is necessary for closure, it needs to come out now. He can't forever let the situation fester while claiming to hold an ace up his sleeve. His core problem is that he is yet to make genuine peace with Hesson (who he refers to tellingly by surname only during the same interview).
This will probably never happen but, pragmatically, he needs to free himself from a self-defeating mindset in which he failed to pass 50 in a test series for the first time in a year. Team morale appears on the rise in the Hesson-Brendon McCullum era after the convincing test displays against England. Taylor risks alienating some extraordinary public support - including standing ovations when he's gone out to bat - if he continues to stew. Goodwill has a use-by date.
The Herald on Sunday spoke to a number of sources closely linked to the team. All agreed Taylor needs to find a way to move on from a place he has never been.
Closure might come through the Indian Premier League which he heads to this week. A rejuvenated Taylor needs to turn up in England for the May tests.
It's understood there was shock within the team over his radio reaction after the final draw, a result which breathed oxygen into test cricket for the casual fan. Until then, there had been no mention of Taylor having any major problems reintegrating. He was described as "outwardly fine". Another source said when the team left its annual Player's Cap function (awarded by team vote to Tim Southee) on the final night of the test, everything was "a box of birds".
There is no simple solution and this is nothing unusual; New Zealand cricket history is littered with examples of team disharmony. However, that does not absolve any current party from seeking a manageable solution. Taylor's cricketing skills are too valuable to be binned and the public might be starting to witness the breadth of Hesson's coaching and man-management talents, based on what he has done since the low-point of the South African test series.
There are concerns within the team that, instead of getting the chance to show pride in a hard-fought drawn series, the focus again fell on Taylor's predicament. The problem now turns to trust.
No doubt that seems rich to Taylor, given he felt ganged up on over the captaincy issue in his Sri Lankan hotel room, but further retribution on his part will only refuel the poison. One source perhaps summed it up best: "He is on the launching pad to be one of New Zealand's greats. Why be remembered for this?"