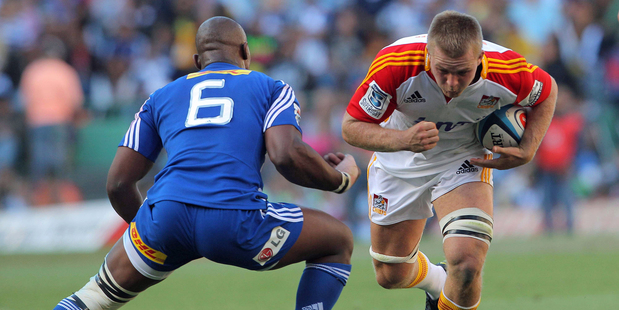 What shaped as one of the great debates of 2013 has virtually been settled barely six weeks into the season. Sam Cane is unquestionably the right man to step in for Richie McCaw for the June tests.
Cane was always the front runner, having impressed in small doses last year. But, despite his favoured status, he was never guaranteed to take the skipper's place. For all his promise, he didn't have many runs on the board, so to speak. He was picked more on potential last year, having played mostly off the bench in his first season at that level.
There was a feeling Cane had to show this season what he was really all about; he had to deliver consistency of performance. Kiwis can't be duped when it comes to opensides; they have seen too many good ones not to recognise a dud.
It has taken him just five games to give a definitive account of himself; five games to show that the talent identification system was bang-on in predicting they had something special in their midst.
Cane has been, without doubt, the best New Zealand No 7 in the competition, maybe even the best No 7 full-stop. What he's all about, as he's made clear, is accuracy and work rate.
He appears to have a big motor, similar to that which powers McCaw. Cane is just as hungry as his mentor to get his hands on the ball. Ball-carrying has been a feature of his work in 2013 and more; he's been one of the competition's best offloaders. Having managed nine prior to last night's game, he was one of only two forwards in the top 10 when it came to offloading.
His tackling, too, has been noted, both for volume and effectiveness. He is the second most prolific tackler in the competition, with 88 to his name, and is on track to post the 200-plus that McCaw gets through if he's around for a full campaign.
There were two instances last week against the Highlanders when Cane proved his undisputed class and his right to be considered the heir apparent. Late in the game, Cane twice held back until he could see the Highlanders, in their desperation to score a bonus-point salvaging try, had failed to commit enough numbers to the breakdown.
With innate timing, exemplary technique and no little bravery, he nipped in, stole the ball and turned defence into attack.
As much as rugby changes, turnover possession has retained its value through all fads and strategic shifts. Those who can secure it by staying strong over the opposition's attacking ball and laying hands on it have also never lost their value.
No wonder the New Zealand under-20 coaches were told in 2011 that they had licence to pick Cane. The policy is to select only players at the top range of the age bracket and Cane would be eligible again in 2012.
The New Zealand Rugby Union contracting team were forecasting that Cane would be with the Chiefs by 2012 and not necessarily available to play for the under-20s. They'd seen enough to be sure - and now the wider rugby public is beginning to see why Cane has been held in such high esteem.
The other contenders for the vacant All Black No 7 jersey have nudged their claim rather than surged forward. Luke Braid has battled, been strong on his feet, gone forward in the traffic and made few mistakes. His attitude is endearing, as is his commitment, but he looks to be more of a 6.5 rather than a genuine seven.
Matt Todd, who was pushing test selection in 2011, has impressed in recent weeks with his dynamism in carrying the ball and speed across the ground.
But neither Todd nor Braid have offered the same all-round impact or range of skills as Cane. There is no debate. Cane is the man who will almost certainly step up in June.