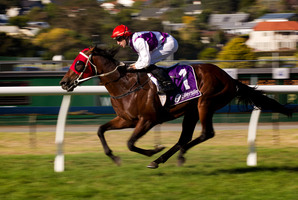 It won't be until 100m off the winning post in tomorrow morning's US$5 million Duty Free in Dubai that it will become obvious whether the mammoth trip around the world has affected New Zealand champ Ocean Park.
The Cox Plate winner appears to have done everything right since arriving in Dubai.
Part-owner and trainer Gary Hennessy says Ocean Park dropped weight on the trip.
"You can't see that the weight has come off him."
Like humans, racehorses lose fluid during international air travel.
Generally that is replaced quite quickly.
Trackwork rider Kate Hercock says Ocean Park feels his normal self.
"He's eating and drinking and he's such a relaxed dude.
"You can't tell [if he's 100 per cent] because he's always a very lazy trackworker."
Ocean Park has travelled the longest distance of all the horses in Dubai.
At this level of international competition being just 2 per cent off top form can get you beaten.
More often than not horses that have travelled the best will beat horses of higher ability in these races.
It will only become obvious where Ocean Park sits when the white hot pressure comes on in the closing stages of one of the world's great races.
While the Dubai World Cup is the world's richest horse race and Dubai's jewel in the crown, the 1800m Duty Free is often as strong and in some years has been stronger.
Geir Stabell, of the Northern Hemisphere's Globeform, says this year's Duty Free is as open as it could possibly be.
"There is not one horse in there that you could say it would be an upset victory if it won."
Stabell agrees it is difficult to line up the form of Ocean Park against the Northern Hemisphere horses.
"Like most people I've heard a lot about Ocean Park in recent weeks and I'm intrigued to say the least.
"He has possibly my all time favourite jockey aboard."
Travelling horses is almost an art and two of the best at it, South Africa's Mike de Kock and France's Alain de Royer-Dupre, winner of the Melbourne Cup with Americain, have runners facing Ocean Park.
Mike de Kock has three representatives. Gary Hennessy would like to join that group at 5.40am (NZT) tomorrow.
One positive for Hennessy is an instant rapport with Johnny Murtagh.
"We seem to be on exactly the same page," says the New Zealand horseman.
The Duty Free is the race the great Sunline tackled in 2001 and should have beaten Jim And Tonic and Fairy King Prawn instead of going down narrowly.
Sunline was taken on in front fiercely right from the jump and, interestingly, regular rider Greg Childs much later admitted to shouldering some of the blame for not setting a faster pace.
To achieve something Sunline was unable to do, albeit unluckily, would help elevate Ocean Park to true international rating.