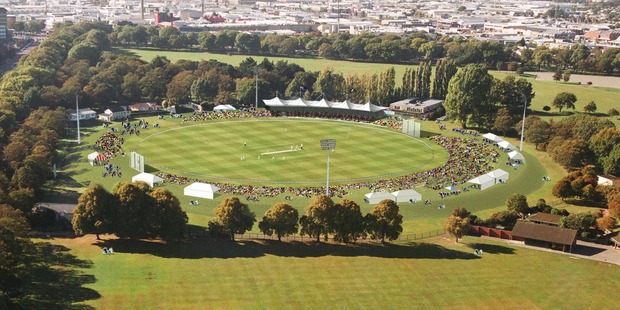 First it was Eden Park back on the test cricket roster this week; now Christchurch is hoping to again be an international venue in time for the World Cup in early 2015.
The city hasn't hosted an international since the February 22, 2011 earthquake. Its last match was an ODI against Pakistan on January 29 that year.
But Canterbury Cricket are now an Environment Court decision and a pile of funding away from having a boutique-style ground operating.
The ground is at Hagley Park, close to the centre of the city and with a capacity of up to 20,000, including temporary seating. Canterbury have used the ground for several domestic games this season.
The playing arena is already at international standard. There is an all-around embankment, a pavilion and lights to be added. There are 11 pitches on the block, and it meets International Cricket Council minimum outfield standards.
There are two stages ahead for Canterbury Cricket. The Environment Court hearing starts on June 4 and is due to finish by the end of that month. A decision date is not known.
Canterbury Cricket chief executive, and former New Zealand captain Lee Germon hopes a go-ahead will be received by the end of July.
"That would enable us to push the button for the development so we are in the mix to host any World Cup games in 2015. We're pretty much dependent on that timeline," he said.
The World Cup organising committee is expected to announce which venues will host games by about the end of April.
"I'm optimistic," Germon said of the Environment Court outcome. "Whether I'm confident is another thing.
"The Environment Court will assess this on the impact to the environment, so it's not about public opinion or even potential commercialisation of the oval.
Issues such as increased traffic, noise and the visual impact of the four light towers are the court's focus. A favourable independent report has been received through the Christchurch City Council.
The council has funded the pitch block, outfield, drainage, embankment and development of practice facilities.
Canterbury Cricket are up for between $5 million to $7 million for the building of what will be called the Hadlee Pavilion and around $8 million for the lights.
Opposition to the plan is in the form of Save Hagley group, who do not want anything detracting from the green swathe of Hagley Park.
"We have met with them three or four times with the council to see if there is some middle ground. We've tried to mitigate their fears as much as possible. They are passionate about their beliefs as much as we are," Germon said.
Christchurch hosted New Zealand's first test in 1930 and its first ODI, against Pakistan, in 1973. There is a strong desire to have international cricket back in the city.
"It is very important that Christchurch is an international venue," New Zealand Cricket chief executive David White said. "It is one of our biggest cities, it is a sports mad city and strategically it is very important for us to have international cricket there as soon as possible."
Germon sees the ground as "more a test venue than a limited-overs venue".
"The capacity with the grass banks is 8000-10,000, but with the ability to bring in temporary seating it is up to 20,000.
"In the big picture, [having cricket at] Auckland, Wellington and Christchurch is vital for our country, and we will have more capacity than the Basin Reserve, Seddon Park and University Oval."