Tomorrow's transtasman league battle has special significance for former boss of Silver Ferns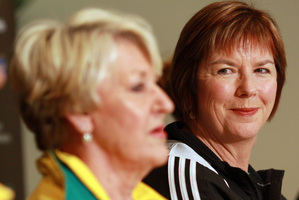 The long-running coaching rivalry between Ruth Aitken and Norma Plummer resumes tomorrow.
But it will have a very different vibe than their previous meetings.
They've faced each other on the biggest stage, with the world's best players at their disposal but tomorrow's transtasman league battle between the Northern Mystics and West Coast Fever will be more like Ruth's rag-tag bunch of misfits versus Norma's "kids"- and Catherine Cox.
The two coaches haven't faced off since the 2011 world championship final, in which Plummer's Australian side edged out the Silver Ferns in extra time - a result, as you would expect, that still annoys Aitken.
"We better beat them, because I don't want her getting another one over me," Aitken laughed.
While Plummer has had a season to get settled in the ANZ Championship, Aitken is still getting to grips with the demands of the world's toughest netball league, in what is a whistle-stop appointment before she takes over as national coach of Singapore at the end of the season.
The veteran coach made her ANZ Championship debut in last week's 14-goal opening round loss to the Vixens.
"I don't like losing, but I love being part of this and I just think this is a huge privilege," said Aitken.
The Mystics, who have had a lot of disruptions to their pre-season, probably surprised a few people by going toe-to-toe with the early title favourites for the first 40 minutes. But they faded badly over the final quarter, as the Vixens exposed the lack of match-hardness in the Auckland side.
Aitken admits fitness is a concern for her side, blaming poor preparation for her side's inability to run out four 15-minute quarters at top intensity.
"We went to [the pre-season tournament in] Melbourne with quite a different team than what we've ended up with now and this group haven't had that intensity that we need," she said.
"We do have to continue to work on our fitness, but it's also about adjusting - they've just got to harden up and do it for four 15s."
But it is extremely difficult for a team to improve fitness levels once the season is in full swing, with recovery and travel time eating into training opportunities.
This week is a case in point for the Mystics. The team played only on Monday night and by Friday morning they were boarding a plane to Perth for their next assignment.
Facing two tough Australian sides first up, particularly after such a disjointed pre-season, is not the ideal scenario for the team, but Aitken said the upside is it will set the intensity for the season. "You've got to do the road trips at some stage and you've just got to get on with it. It'll be quite nice going away now with the group too because it helps to really build that team unity."
Round two will feature several intriguing match-ups with the Vixens and Adelaide Thunderbirds - tipped to be the top two Australian sides this year - to do battle in Melbourne tomorrow, in what is sure to be closely watched by the rest of the competition. Likewise tomorrow's late game between the Magic and Swifts in Tauranga is expected to answer a lot of questions about the sides' playoff credentials.
ANZ Championship
Round 2
Today: 4.20pm Mainland Tactix v Southern Steel, Christchurch.
Tomorrow: 2.10pm Melbourne Vixens v Adelaide Thunderbirds, Melbourne; 4.10pm West Coast Fever v Northern Mystics, Perth; 7.20pm WBOP Magic v NSW Swifts, Tauranga.
Monday: 7.40pm Central Pulse v Queensland Firebirds, Porirua.