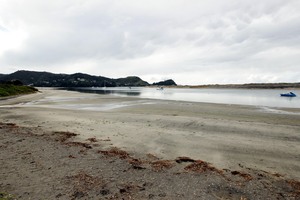 People who think they know the Mangawhai region need to think again. The Mangawhai Walking Weekend has become famous over the past few years for encouraging locals and visitors to the region to explore all new areas of the Northland area.
There is no better way to experience the beautiful coastline of Mangawhai than walking and this week there is the chance to do it with company as around 700 people are expected to attend the event. It's the 14th edition of the walking-get-together and 30 guided walks are on offer. All walks are graded so everyone is catered for.
Event co-ordinator Jean Goldschmidt says the philosophy of the event is towards forming a community of walkers.
"We are happy to share the paradise we live in," she said. "Visitors are welcomed into Mangawhai and are there to enjoy the company of each other. We do see many of the same people each year with many having come for years. There are always new people as well. Groups now make it an annual get together."
A feature of the event is the popular Mangawhai Wine and Food Festival which attracts around 1000 people and there is good representation from the walkers.
"Many friendships have been formed. People have even come to live in Mangawhai because of the event."
It began in 2001 with 150 keen walkers and was designed to bring people to Mangawhai. It has grown into something much bigger. The organisers pride themselves on coming up with fresh routes.
For people looking to ease their way into fitness with like-minded people the Mangawhai Walking Weekend is ideal.
"Everybody completes the walks as the 'tail end Charlies' do a splendid job making sure walkers manage to their own ability. We always have those folk who are unsure but the environment is overwhelmingly positive and supportive."
The event is made possible by the around 90 Mangawhai people involved in the event from the guides (who have a training day) to the people who host at a number of venues. There would be no weekend without the guides.
"We have no sponsorship and everything is voluntary. It is a weekend that the people of Mangawhai are proud of."
Walking weekend
When: April 4-7
Where: Mangawhai
Options:
30 walks to choose from, walks are guided and graded from easy to extreme fitness
• All the volunteer guides have had a training day and have thoroughly prepared their walks
• Experience one of the top coastal walks in New Zealand and the unique Troubadour Trail
• The Mangawhai Wine and Food Festival is on Saturday, April 6.
• www.mangawhaiwalkingweekend. co.nz