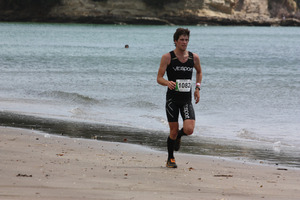 Thomas Reynolds is not your typical doctor. The 24-year-old, who recently completed his training at Auckland Hospital and now works at Whangarei Hospital, fills his spare time by training for running, orienteering and MTB events around New Zealand. Reynolds has an impressive track record in all multisport he attempts - he has competed in two Orienteering World Champs, won a number of MTB titles and is a more than handy runner at the elite end of most off-road events. He finished runner-up in the inaugural Goat Kaimai run last weekend and now is looking to go one better in next week's Wild Turkey half marathon.
How do you find time to compete at the elite level with such a demanding job?
I don't sleep too much [laughs] I go to bed late and get up early and normally fill the day in with a lot. Being a doctor is full on but when I come home after a stressful day at work getting out for a big run is the ultimate release of that and it wakes me up.
I think both my sport and my work complement each other and it is great to have sports like running or mountain biking that are so different from my profession as a doctor to help me get away from it all and clear my mind so when I come back to it I feel refreshed.
How often do you train and what does it involve?
I train pretty much every day and only have one rest day each week. I am generally training around 10-13 hours a week, which is at a good level for me that I can manage. I try and split the running and the MTB training at about 60-40 [respectively] which means I normally run around 45km a week and I bike about 250km a week.
How is your form heading into the Wild Turkey and what are your expectations?
Coming off a second last week at the Goat Kaimai was a good confidence boost for me because the Wild Turkey has some similar technical terrain to what we'll be running next week. I have the national championship for orienteering this weekend so I am hoping that I am not too tired after that because this is an event I always want to peak for and perform well at.
What do you enjoy about the Wild Turkey run?
Parahaha is just an awesome part of the course. The best thing about the Wild Turkey is that it is so close to Auckland. It is a rugged run without parallel in the Auckland region. We did The Dual over on Motutapu Island recently, which has amazing views, but there is nothing like running out on the West Coast in the Waitakeres - it is a really special place.
It must be cool turning up to these events knowing all the guys in contention and the competition you are going to have?
Yeah it's awesome actually. There is a good group of us who train together. We are pretty competitive and we push each other pretty hard. I love the time at the end of the race when we all catch up and talk about the race how we went and the classic moments from out there. That is what it is all about and that is the reason we train so hard - so we can get one up on our mates on race day.
What advice do you offer to newcomers to the Wild Turkey Run?
It looks like it is going to be a hot day so keeping hydrated is going to be important. It is a good idea to start drinking a lot of water in the days leading into the event so that your body is ready to be pushed a bit harder. Make sure you wear a good pair of off-road running shoes. The rough trails are all about flow. Keep your eyes up and look for smooth lines across the rough roots and rocks.