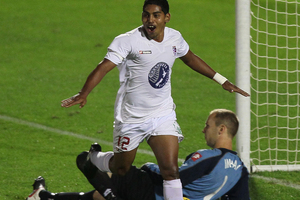 Just where the O-League sits in the thinking of both Auckland City and Waitakere United can be gleaned by how many players they have recruited since the ASB Premiership finished a fortnight ago.
Two-time defending champions Auckland kick off their campaign against New Caledonia's Mont-Dore in Noumea tomorrow and Waitakere host Tahiti's top club side Dragon at Fred Taylor Park.
Auckland have added two-cap All White Adam McGeorge from Team Wellington along with Canterbury United midfielder Darren White.
Waitakere have been even busier in the transfer market and have recruited English strikers Chris Palmer and Billy Colton, as well as back-up goalkeeper Richard Gillespie, Julyan Collett, Rory Turner, Hawkes Bay United defender Bill Robertson and former All Whites midfielder Jeremy Christie.
Christie has played 29 times for New Zealand, including two appearances as a second-half substitute at the 2010 World Cup in South Africa, and will hope he can impress to get in the frame for November's World Cup playoffs against the fourth-placed team from North and Central America.
The 29-year-old hasn't played much over the past couple of years. He missed most of the 2011 season for the Tampa Bay Rowdies in the second-tier North American Soccer League because of a hip injury and was released at the end of the season.
Waitakere will go into the O-League as favourites after their form through the ASB Premiership season, which culminated in their dramatic 4-3 extra-time win over Auckland in the final.
"We've spent a lot of time doing recruitment and I think we've got a fantastic range of players,'' Waitakere coach Paul Marshall said. ``We've got players that can do different jobs in the same areas which gives us a bit of variety. We're not going to be solely looking at one style of play, we can change things up quite nicely with the players we've got.''
Auckland and Waitakere have been drawn in the same group of a revamped O-League. All group matches are being played in a one-month period (as opposed to during the domestic season) and semifinals will be played involving the top two sides from each group. It means Auckland and Waitakere can qualify for the final, which comes with the reward of playing at the Club World Cup and a minimum of US$500,000 in prizemoney.
The two teams meet for the first time next weekend in a continuation of New Zealand's biggest modern-day football rivalry at Fred Taylor Park. Waitakere have won the last four ASB Premiership titles but Auckland have won three of the last four O-League crowns, including the last two.
- APNZ