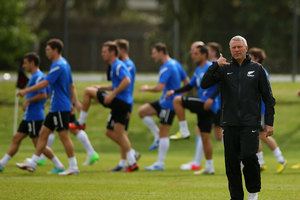 The All Whites journey to qualify for the World Cup in Brazil next year is a grueling three stage process.
The good news is that the first two stages are now complete; the bad news is that the final hurdle is the hardest.
Stage one was the OFC Nations Cup - aka the Horror in Honiara. Despite struggling to beat the island nations in the Solomon climate, the All Whites finished third, enough to qualify for the top-four home and away Oceania World Cup qualifiers.
Stage two was a breeze, as the All Whites won all six of their games, clinching qualification with one to spare following Tommy Smith's last minute winner over New Caledonia last Friday.
And now they find themselves on the doorstep of stage three, a two-match, home and away playoff series against the fourth-placed Concacaf team.
The matches on November 15 (away) and 19 (home) will be not just the most important since South Africa (another World Cup journey, prestige, rankings, bank balance ...
) but also the hardest.
The All Whites have faced some tough opposition in friendlies since the last World Cup but nothing will compare to these matches. Their opponents will have come through an arduous six-team play-off series and, with a ticket to the World Cup on the line, nothing will be left on the field.
The Concacaf teams last month started a tough, even, six-sided competition known as 'the Hex' (short for hexagonal), involving Mexico (ranked 15th in the world), the US (33), Panama (41), Honduras (49), Costa Rica (53) and Jamaica (54). New Zealand are ranked 88th. All teams have currently played three of their 10 games.
Regional powerhouses Mexico and the United States will likely qualify directly from the Concacaf region, while third place also earns automatic qualification and fourth faces a date with New Zealand.
We take a look at the four likely contenders.
PANAMA
(Currently first)
Panama 2 Costa Rica 2
Jamaica 1 Panama 1
Panama 2 Honduras 0
Leading the group by one point, Panama will be thrilled with their unbeaten start to qualifying. Snatching a point away to Jamaica is no easy task, while a convincing win over Honduras has the locals dreaming of making their first ever World Cup.
But their rode gets harder, with their final two matches away to Mexico and the USA, so they need to keep the good times rolling.
Panama are a defensively solid outfit and conceded just two goals in six games during stage three of qualifying, the best (along with Mexico) of the 12 teams. Their defence is anchored by Felipe Baloy, who plays for Santos Laguna in Mexico's Primera Division. The 31-year-old was a key player at the 2005 Gold Cup (where they finished runners-up), though he was rebuked this year after posing for photos with a young fan, while clutching a clearly visible copy of a freshly purchased Playboy magazine.
Highly rated midfielder Anderson Cooper, who plies his trade in Argentina with Godoy Cruz, is one of the main playmakers, while veteran striker Luis Tejada (Toluca, Mexico), who was outstanding in the historic win over the US, fires the bullets.
Nicknames: They are known as Los Canaleros (the Canal Men) or La Marea Roja (the Red Tide).
Intimidation factor: Medium. The Estadio Rommel Fernandez has a capacity of just 32,000, and an athletics track leaves spectators a long way from the action. Panama City is a favoured spot for retirees, though the tropical heat and rain - November brings an average high of 32°C - will be a factor.
History vs All Whites: Never played.
COSTA RICA
(Currently second)
Panama 2 Costa Rica 2
United States 1 Costa Rica 0
Costa Rica 2 Jamaica 0
Costa Rica lost to the USA in an incredible snow covered match last week, but other than that, things are looking good.
A win and a draw against Jamaica and Panama has them locked in a three-way battle for second place on four pounts.
However a good start is critical for Los Ticos as their last four games see them host the US, travel to Jamaica and Honduras before clashing with Mexico in San Jose.
Costa Rica are usually favourites to sit alongside Mexico and the US as automatic qualifiers from the region but have been in a period of transition over the past few years. They are the most successful side from Central America in the history of the World Cup - having qualified three times (1990, 2002 and 2006), reaching the second round in 1990 - but missed out on the automatic berth to Honduras, then lost a two-leg play-off to Uruguay in 2009.
Their squad is headlined by outstanding Fulham playmaker Bryan Ruiz and includes Alvaro Saborio (Real Salt Lake, MLS), Cristian Bolanos (FC Copenhagen) and goalkeeper Keilor Navas (Levante, La Liga).
Hopes also rest on the shoulders of young striker Joel Campbell, who turned heads at the 2011 Copa America and was snapped up by Arsenal. On loan at Real Betis, he scored a stunning goal this month against Deportiva La Coruna, which has been tipped to rival many of Lionel Messi's efforts for La Liga goal of the season.
Nicknames: Los Ticos, La Sele (The Selection).
Intimidation factor: High. San Jose is recognised as one of the safer cities in Central America but the locals are used to football-ing success and will do everything possible to put off visiting teams. The altitude (almost 1200m) will present additional challenges and Ricki Herbert will have miserable memories of San Jose, with a 4-0 pasting back in 2007 representing one of the worst defeats of his international coaching career.
History vs All Whites: Mark Paston, Tony Lochhead, Ivan Vicelich, Shane Smeltz, Jeremy Brockie and Leo Bertos are survivors from a dismal 4-0 loss back in 2007, which saw Herbert experiment with a back three. The Costa Rican team contained only one player who appeared at the previous year's World Cup.
USA
(Currently third)
Honduras 2 - USA 1
USA 1 Costa Rica 0
Mexico 0 USA 0
After a shock first round loss to Honduras, the USA faced two challenging matches to get their campaign back on track. First they faced Costa Rica in a blizzard in Commerce City, Colorado and then travelled to Mexico to face the best team in the group.
But they fared well in their follow-up games and a win in the snow and a draw in Mexico has put their campaign back on track.
Led by Tottenham midfielder Clint Dempsey, the USA are stacked with players from the best leagues in the world and it will be a huge upset if they don't make the top three.
History vs All Whites: USA beat the All Whites 2-1 in New Zealand's first game of the 1999 FIFA Confederations Cup in Guadalajara, Mexico. Chris Zoricich scored for New Zealand in the 94th minute.
HONDURAS
(Currently fourth)
Honduras 2 - USA 1
Honduras 2 - Mexico 2
Panama 2 - Honduras 0
After a thrilling come-from-behind 2-1 home win over the USA and a gripping 2-2 draw with Mexico, the Honduras campaign hit the skids with a disappointing 2-0 loss away to Panama.
The Central American country has several similarities with New Zealand. Like the All Whites, they qualified for the 2010 World Cup in South Africa, which represented their first appearance at Fifa's global showpiece since 1982.
Like the All Whites with Ryan Nelsen and Winston Reid, Honduras rely heavily on a couple of players who appear at the highest level of the sport, significantly above many of their team-mates.
Defender Maynor Figueroa (Wigan Athletic) and midfielders Wilson Palacios (Stoke) and Roger Espinoza (Wigan) present a formidable Premier League trio, while gun striker Jerry Bengston (New England, MLS) is a major threat in the penalty area. Bengston, who scored a hat-trick in the surprise 8-1 win over Canada which gave Honduras a passage to stage three, was also a star at the London Olympics, as Honduras reached the last eight.
Nicknames: Los Catrachos, La Bicolor, La H.
Intimidation factor: Medium. Estadio Olimpico Metropolitano (capacity 40,000) can turn into a cauldron on match day and the passion of the locals can't be underestimated - this is the country that once went to war with neighbouring El Salvador over a football match.
History vs All Whites: A 1-1 draw at North Harbour Stadium in late 2010 (Chris Wood's first international goal) was followed by a celebrated 1-0 win in Dallas (Shane Smeltz) this year.
Mexico
(Currently fifth)
Mexico 0 - Jamaica 0
Honduras 2 - Mexico 2
Mexico 0 - USA 0
Three draws from three tricky opening matches has Mexico sitting in unfamiliar territory near the bottom of the ladder.
After a goalless stalemate with Jamaica, they gave away a two goal lead to draw with Honduras before sharing the spoils with the USA on Tuesday.
With a run-in that includes home games against Costa Rica, Honduras and Panama, expect to see Mexico directly qualify for Brazil.
Manchester United striker Javier Hernandez is their main weapon in attack and his two strikes against Honduras highlighted his goal threat.
If New Zealand somehow find themselves up against Mexico come November, it will be a nightmare scenario for Ricki Herbert.
History vs All Whites: Mexico have beaten New Zealand on two occasions, the first 2-0 in a friendly in Pasadena in 2010 and more recently 3-0 in 2010 in a friendly in Denver, USA.
JAMAICA
(Currently sixth)
Mexico 0 Jamaica 0
Jamaica 1 Panama 1
Costa Rica 2 Jamaica 0
Winless after three matches, the Jamaicans have had a miserable start to their qualifying campaign. The one bright light was the 0-0 stalemate away to Mexico, but the 2-0 loss to Costa Rica, and failure to beat Panama at home will have hurt their chances.
As the All Whites saw in February, the Jamaicans are a dangerous team, especially on the counter-attack.
Along with a clutch of local players, coach Theodore Whitmore has plenty of overseas-based stars to call on. Ricardo Gardner, recently released by Fulham after 14 years at Craven Cottage - the second longest spell for an overseas player in the Premier League - is dangerous, while former Stoke striker Ricardo Fuller (currently at Charlton Athletic) is also back in the frame. Electric winger Dane Richards (New York Red Bulls) and all-time leading scorer Luton Shelton (Karabukspor, Turkey) are key men on attack, while goalkeeper Donovan Rickets (LA Galaxy) provides a solid presence between the posts.
Nicknames: Reggae Boyz.
Intimidation factor: High. Jamaica enjoyed a 50-match unbeaten run at their national stadium (nicknamed The Office) between 1995 and 2001 and most visiting sports team feel a little uneasy in Kingston, recognised as having one of the highest murder and crime rates in the world. During November, the mercury hits an average high of over 31°C.
History vs All Whites: Jamaica won an entertaining match earlier this year 3-2 (Chris Killen, Wood) in Auckland while the the only other clash saw the Caribbean nation win 2-1 (Simon Elliott) in 2000.