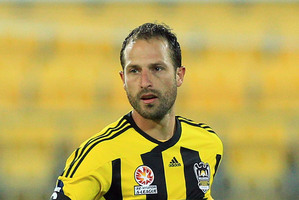 New Zealand Football got the result they wanted on the field yesterday when the All Whites beat the Solomon Islands in their final Oceania World Cup qualifier but they are in dark about whether they got a positive result off it around the Andrew Durante eligibility saga.
Durante made his All Whites debut in the 2-0 defeat of the Solomon Islands in Honiara and NZF were hopeful his eligibility would be questioned by either the Oceania Football Confederation or the Solomons after the match. They are confident the Australian-born defender qualifies to play for New Zealand but have not received a definitive answer from Fifa and hope a challenge will bring certainty.
They want the matter resolved before November's intercontinental playoff with the fourth-placed team from North and Central America and the game against the Solomons was the best chance to do this. Any successful challenge would see that 2-0 result overturned and the All Whites lose 3-0 but they had already guaranteed progression to the World Cup playoff.
NZF high performance manager Fred de Jong tried all day to contact Oceania head of competitions David Firisua to see if Durante's inclusion was included on the match commissioner's report - if it was, Fifa would need to look into the matter - or if the Solomons appealed Durante's participation. Firisua also didn't return calls made by APNZ.
"It's a waiting game for us," de Jong said. "We are waiting to see if anything has come out of the game that would instigate an investigation into Durante's eligibility. We are trying to get hold of that information through OFC.
"Our view is that we would hope OFC would help us to clear up his eligibility because OFC represents us at Fifa.
"If nothing pops up, we will review the situation again. I think we would probably go back to Fifa and highlight that Andrew played and ask whether that changes anything."
As they waited for a response, NZF kept a close eye on World Cup qualifiers played in North and Central America today. Panama beat Honduras 2-0, Mexico and the US played out a 0-0 draw and Costa Rica beat Jamaica 2-0.
It means Panama lead with five points after three of their 10 games followed by Costa Rica, USA and Honduras (all on four points), Mexico (3) and Jamaica (2).
The first leg of the intercontinental playoff will be hosted by the Concacaf country on November 13 or 14 followed by the return match in New Zealand on November 20.
- APNZ