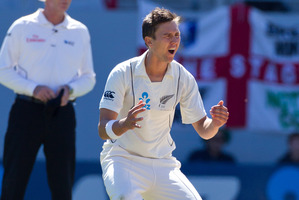 The words of Shane Bond on Sunday night kept ringing in the ears.
Asked what New Zealand's bowlers needed to do in the second innings, after an impressive first innings effort spearheaded by Trent Boult and Tim Southee, the former pace ace, now national bowling coach, kept it simple: "We need to be patient, just hang in there."
He doubtless expected getting the second batch of 10 English wickets would be more challenging than first time around. All through a gripping final day, those words rattled about.
New Zealand were good to Bond's words. They strove desperately for the series win that would have been the icing on a dominant performance. Well, dominant until yesterday.
Through the day, just when it appeared England's batsmen had New Zealand's measure, a wicket would fall. It meant fresh hope for the 6700 watching at Eden Park, other than the touring supporters.
Passers-by peered between gaps in the stands, even police officers doing their rounds at the park stopped for a look as the drama unfolded.
After two drawn tests where rain had a key say in the outcome, there was no chance of a disruption yesterday, so the contest played out in a way which could leave neither side with a gripe. It was a drip-drip-drip kind of day. Slow torture for those who had come full of expectation of a home victory.
Key moments came and went. Referrals for lbw, French cuts, all manner of twists.
When Dean Brownlie dropped the valiant Ian Bell in the last over before lunch, you wondered. Bell occupied the crease another precious two hours. Crucial time eaten up.
Matt Prior, top scorer in both innings and a magnificent scrapper, had a ball balloon off his defensive bat, over his head and down on to his stumps from Neil Wagner on 28.
The bails didn't move. At that point you sensed "not today".
Then Stuart Broad eclipsed New Zealand's Geoff Allott for the longest innings without a run, on the same ground against South Africa in 1999. Of the first 50 runs in his stand with Prior he contributed precisely none.
Kane Williamson gave the contest a late, lusty shake, whisking away Broad and James Anderson in three balls. Three overs to remove Monty Panesar. Not enough, although Panesar's frantic too-early dive and scramble to avoid a run out tossed in a final head-in-hands moment.
England's batsmen had their luck, but that needs to be set alongside the skill and perseverance of Prior, Bell, Joe Root and Broad. It was England's day, just. Still, it can't get any closer.