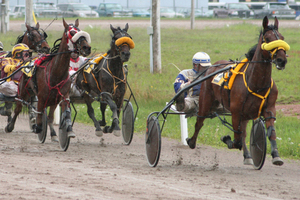 The final chapter in Stig's miracle career could feature yet another twist.
The veteran trotting champ looked in all sorts of trouble as he hobbled around the Melton stabling area on Saturday night, unable to put his near-front leg on the ground.
After a month of trotting roughly in Australia's best races and then galloping in the A$250,000 ($313,000) Great Southern Stars Final, trainer Paul Nairn feared Stig may have broken down for the last time.
But an extensive veterinary examination yesterday found no fractures and while they are some times undetectable, hope has returned to the great horse's camp.
"We couldn't find a stress fracture, which doesn't mean there isn't one there but my vet doesn't think so, said Nairn. "She thinks he might simply have bruised the bone in his foot, which is what he did before missing the Rowe Cup last season.
"He is walking fine now so we really just have to press on with him and see what happens."
Those who saw Stig on Saturday would struggle to believe his recovery, but then again, this is a horse who was retired for three years then came back to trot two national records.
Nairn thinks Stig's persistent soreness issues may have been worsened by the harder tracks in Australia and is looking forward to getting him back to Auckland next month.
"He loves the track up there because it is usually really well conditioned," said Nairn.
"And I'd love to give him one more shot at the Rowe Cup."
The Rowe meeting begins on April 26 with a $100,000 trot, followed by the $150,000 Rowe Cup on May 3.
Stig would be an early favourite for both, with I Can Doosit out injured and Great Southern Star winner Vulcan not as potent at Alexandra Park. "We will be doing our best to get there and I can't see any reason he won't make it at this stage, but you never know with him."
Vulcan will remarkably try to win his third group one in a week in the $80,000 NZ Trotting Champs at Addington on Saturday, where he meets a below-average group one field.
Even lighter on numbers is the $100,000 Easter Cup, which has just seven starters.
Betting on that group one feature will be completely dominated by Terror To Love, who faces just a 10m handicap, meaning the dual New Zealand Cup winner is giving horses assessed as just five-race winners only a few lengths' start.
That should see him start one of the shortest-priced favourites in Easter Cup history.
Fighting back
* Stig's incredible career could continue.
* The great trotter looked to have broken down in Melbourne on Saturday.
* X-rays show no breaks or major damage and he will be aimed at the Rowe Cup in May.