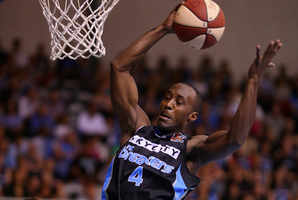 Cedric Jackson has pocketed one of his two main motivations this season but the most important will be determined over the next fortnight during the ANBL playoffs.
The 27-year-old Breakers import was named the league's MVP on Sunday night, making up for some of the disappointment of last season when he finished fourth in the voting.
Jackson was a little miffed about missing out then and used it as motivation this season. What he has produced has been, at times, quite staggering and it could help him secure the NBA contract he covets.
He led the league in assists (7.2 per game) and steals (2.8) as well as finishing in the top 10 in scoring (15.6). He won four player of the week awards, two player of the month prizes and often manufactured the winning basket. It would have been a travesty if he was overlooked for the MVP award this time.
"It definitely feels good," Jackson said. "It felt good to be rewarded for all the hard work."
"Last season I tried to enjoy myself and get better and better and then someone said you could be MVP. It really didn't dawn on me until a month left in the season. It would have been cool to get it last year but [Perth's] Kevin Lisch had a great year.
"This year I definitely had different goals and had my mind set on that but I had to fit within the team, too. I didn't want to shoot every ball, do everything. I'm just a team guy. But to have a goal to win it this year is motivation to get better and motivation to try to dominate my position and help my team out as much as I can and get wins."
The Breakers achieved 24 this season, with only four defeats, but their season will be judged on what happens over the next fortnight. They tackle Sydney in the first game of a best-of-three series at the Vector Arena on Thursday night and will be wary of a side who are one of only two to beat them this season - Perth won three of their four games.
Not only that, two other games against Sydney were won on the last shot including one in overtime.
Sydney will be without influential American point guard Corin Henry because of injury but in guard Ben Madgen (the league's leading scorer) and centre Ian Crosswhite (the league's second-best rebounder) they have players capable of hurting the Breakers. And coach Shane Heal won't accept second best.
"I think they play hard," Breakers coach Andrej Lemanis acknowledged. "They get after it and they never quit and they have a little bit of that arrogance in them, for sure.
"We have to come out with the right mindset, play well and give ourselves a chance to win."
They didn't do that last Friday, when they looked lacklustre in a 73-58 defeat in Perth that halted their 16-game winning streak.
"It was a good loss for us," Jackson said. "We have let that go ... because we are getting ready for war on Thursday."
- APNZ