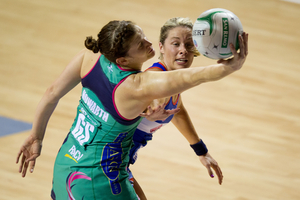 With all the focus on how Mystics coach Ruth Aitken was going to get her rookies up to speed for the season, the task facing Australian import Julie Corletto has largely been overlooked.
Given Corletto is rated the Diamonds top defender, goal defence was one of the few positions the Mystics didn't have to worry about heading into last night's season opener against the Melbourne Vixens.
Fiercely determined to make an impact against her old side, the athletic star didn't look entirely comfortable in the Mystics set-up in their 60-46 first-up loss. But considering Corletto has had to make significant adjustments to her game to fit in with the Mystics' style of play, her quiet start isn't all that surprising.
One of the best tracking defenders in the game, the New Zealand space-marking style of defence must seem almost counter-intuitive for Corletto.
"It has been a bit of an adjustment to make,'' she said. "But it makes sense the principle of what you're trying to set up. You may not be tight on your player but you're setting it up for your other teammates so, as long as we get the ball in the end, it's all good.''
Corletto is the first established Australian international to play for a Kiwi franchise, following her husband, Breakers shooting guard Daryl, to Auckland this year. There was some reluctance from Australian netball management to let their star defender come to New Zealand but Corletto believes getting an insight into the New Zealand defensive systems will ultimately be good for her career.
"You always want to have different tricks in your kitbag that you can throw out there on the netball court, so it's good to learn a different style.''
While the Mystics through-court defence was pretty solid last night, forcing plenty of turnover ball from the Vixens side, the in-circle defensive combination between Corletto and Jess Moulds looked a little rusty.
Moulds, who was elevated into the starting line-up after a pregnant Anna Harrison withdrew from the squad, picked up some good ball at the back, coming up with three intercepts and seven deflections, but her switches with Corletto weren't as sharp as they could have been.
Their lack of understanding was a result of the fact the pair haven't actually had a great deal of time to work together, with Moulds hampered by a shoulder injury in the pre-season and Corletto had a minor ankle concern. Ordinarily this would be cause for alarm, but against the backdrop of all the other setbacks the Mystics encountered during the preseason, this one seemed relatively minor.
"We've had minimal time to be able to work together on the court, so we need to build our understanding of one another. That will come with time, but it doesn't feel like it's too far off,'' Corletto said.
The Auckland side won't get a lot of time to sharpen up their combination work this week, with the team facing a short turnaround before they head to Perth to take on the Fever - a match that will resume the rivalry between Aitken and her former Australian counterpart Norma Plummer.
Both sides were on the wrong end of 14-goal scorelines last night, with the Fever going down 55-41 to the Swifts in Sydney.