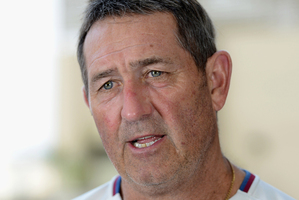 England have received a sharp reality check during the New Zealand series, according to former captain and now batting coach Graham Gooch.
As England teeter on the brink of a heavy defeat in the third and deciding test at Eden Park tomorrow, Gooch denied the tourists had taken world No 8-ranked New Zealand lightly.
''You can't play people on what it says on the ranking or a piece of paper," Gooch said.
''You have to play good cricket on the field to compete, and certainly in two of the three matches so far New Zealand have been in the ascendancy."
England are 90 for four, chasing an uncatchable 481 to win today. New Zealand need six wickets for their first series victory over a major nation since beating the West Indies in 2006.
''Our backs are to the wall but there is no way in our dressing room are we going to give up. That's what test cricket is about, that's why it's called test cricket."
Gooch praised New Zealand's performance and denied subconsciously world No 2 England had left their guard down.
''Our performance is not up to the standard we have produced in the past on a consistent basis so we will have to look at that. I wouldn't say we have taken them lightly after the first match where they dominated the game.
''They have got some good cricketers, some experienced cricketers and some good young bowlers as well.
''And credit to them, they have played good cricket. In parts we have played good cricket. We haven't played that good a cricket in this match so far."
England came to New Zealand on the back of a 2-1 test series win in India. This has been a far different story, with the first two tests drawn, with each team having the better of one test.
''We have not found that form, so yeah we have to be disappointed. You can't be happy with the way we've played," Gooch added.