Moody has done a magnificent job in returning remarkable mare to her majestic best.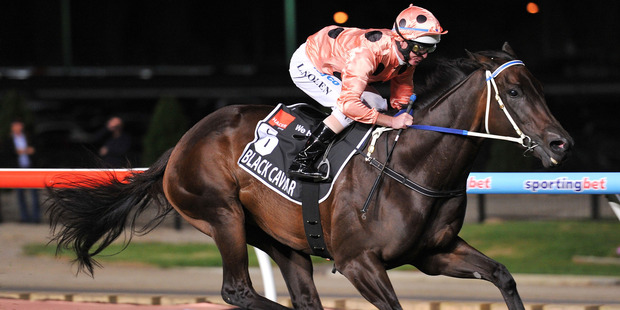 Greatness comes with a remarkable aura.
There is one standout factor around the camp of the great Black Caviar - the acceptance that absolutely all the credit must go to the mare herself.
It is the purest form of adulation.
Peter Moody is entitled to enormous credit for the way he has massaged Black Caviar back from the bottom of the wellness pit in England last year to be in the best shape of her stunning career.
Retirement had looked eminent.
But late Friday night as Moonee Valley stretched close to capacity, Moody refused all attempts to make him a major player in the remarkable 24 straight victories.
Not even for leaving a hospital bed with blood poisoning to put the final 48-hour touches to his great mare.
"She's in better shape than me," was all he would contribute with a smile when asked to comment on his own health.
This was about Black Caviar. Everyone else was a bit player.
Without her they wouldn't be there.
Without her no one would have been at Moonee Valley.
This was a one-act play put on solely for 550kg-something of horseflesh to which 26,000 showed up.
The publicity she generates for racing is beyond measurement.
There was former New Zealand jockey Paddy Bell, just about the best trackwork rider Moody says he's seen, which is why he has the daily responsibility of sitting on the back of the world racing's hottest property at 5.00am.
Bell was at Black Caviar's head all Friday night but refused to take any of the spotlight. "We're all part of a team," was all he had to say.
To most who watch her, Black Caviar simply wins.
To the true horse followers, the way she does it is more astounding than the 24 straight.
Sprinters take short strides and lots of them.
Black Caviar ambles. She looks to be doing three-quarter pace when those around her are doing close to their best.
When Luke Nolen asks her to sprint she doesn't noticeably quicken.
Clearly she lengthens what is already a massive stride by comparison to most.
To view that via overhead vision would be remarkable.
Obviously with each win the pressure builds, even though it's clear that in current form Black Caviar could be beaten only through injury or racing luck so bad it could not be imagined.
That does not lessen the nerves each time a race approaches.
Luke Nolen's wife was asked on television on Friday night what the Melbourne jockey was like leading into a Black Caviar week.
"We let him away with it," she said.
Yes, but what was he like today before this race.
"I'm not sure I'm allowed to use this word, but 'prick'."
Peter Moody has always publicly refused to acknowledge the Black Caviar pressure, but the cigarettes give the show away.
Nolen was prepared to declare some after Friday night's race.
"I get to where I look forward to when she's heading to the spelling paddock. Her and me."
Another thing was clear Friday night - wouldn't you just love Black Caviar's next start to be against the Poms on their home turf.
Few realise just how unwell she was when she fell in to win there last year leaving many of the To-And-Froms to believe she was nowhere near as great as her reputation.
If she took that field on now she would leave them behind.