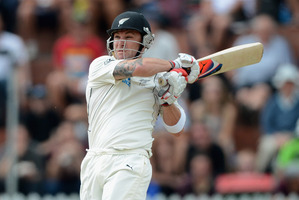 Napoleon Bonaparte once said "I make circumstances". Brendon McCullum mimicked him yesterday.
Sure, things didn't exactly turn out too flash for the French general but he had a good run. There's no guarantee they'll work out for McCullum either, but his stocks are improving as the country's latest cricketing general. Nay-sayers are evaporating fast as a second home series win over England in 18 attempts looms as possible.
McCullum directed with aplomb and led by example preventing runs - both through his field placements and scrambling efforts at cover.
He stacked the slip cordon for his pace bowlers and crowded the bat for spinner Bruce Martin. He tweaked his field regularly rather than numbly accepting the status quo and constantly chirped in the field.
McCullum (and much-lambasted coach Mike Hesson) can take heart this team is headed in the right direction. The 10,000 patrons pepper-potted across Eden Park's concrete jungle certainly endorsed that view. Comments such as "who would have thought" have wafted around the entire series.
Expectations are being exceeded.
McCullum's stocks would transform further with a win against the world's second best side. Regardless of the result, the hosts have forced England to think about the now rather than the Ashes. A win wouldn't improve New Zealand's place in the test rankings but would bridge the gap to nine points from the West Indies.
McCullum gets another chance to make circumstances like Napoleon today. He is due to bat next and can dictate the declaration. England have never chased down more than 332 in the fourth innings of a test (v Australia 1928). In fact they've only successfully chased more than 300 three times. The highest winning fourth innings total at Eden Park is 345 (achieved by the West Indies in 1969).
If McCullum's to gamble on history, New Zealand shouldn't need many more (the lead is 274). The West Indies' effort to haul in 291 in the last Eden Park test in 2006 fell 28 runs short.
The skipper also has a willing infantry to carry out the task. Unofficial vice-captain Peter Fulton knuckled down again to see them to stumps. Dean Brownlie kept fighting for the No 5 spot, B-J Watling consistently shows application at No 7. Then it comes down to the four bowlers who McCullum has persevered with for an entire series, a rarity amongst New Zealand sides. It's time for them to repay him.