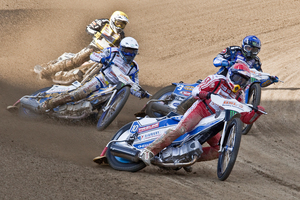 For a few magical moments last night, Western Springs felt a bit like Warsaw. There were frequent Polish songs and chants, plenty of 'Polska' flags and a passionate rendition of Mazurek Dbrowskiego as their riders swept the top two places at the Speedway Grand Prix.
Pole Jaroslaw Hampel took a thrilling victory in the final, while his compatriot Tomasz Gollob grabbed second place, much to the delight of a few hundred vocal Polish fans.
Dane Nicki Pedersen recovered from some poor early races to claim third place, while 2012 champion Greg Hancock was fourth.
World champion Chris Holder was knocked out at the semifinal stage, while fellow Australian Darcy Ward, who set a new track record (63:66) with some flying laps, suffered the same fate. Local wild card Jason Bunyan struggled to keep pace but produced one brilliant ride to claim a third and a cherished point.
But the night belonged to Hampel, who came into this season ranked tenth in the world after his 2012 season was ruined by serious injury.
"It's an amazing feeling to be sitting here with the trophy," said Hampel. "I can forget about last year and my injuries. This track is amazing and we had a good crowd again."
Hampel improved with each race. He claimed seven points from his final three heats (one win, two seconds) to scrape into the last eight in seventh place. Then he flicked the switch. From the unfavourable outside gate, Hampel produced one of the rides of the night to win his semifinal.
"It's hard from there but I tried to stay positive," said Hampel. "I have won from there before. I got a good start and went on."
Gollob was top seed for the final but surprisingly chose gate two (13 of the 20 heats were won from the inside gate) leaving Hampel to take gate one ("When he chose two, it surprised me - I had a smile on my face"). Hempel made no mistake from the pole position, avoiding danger at the first corner and accelerating away for the win.
The event was a brilliant spectacle. It seems a pure version of motorsport, as much man as machine. Formula One can be entertaining at the start and finish but there is not much in between from a spectator point of view, while V8 Supercars can be processional.
Last night, there were 23 races - meaning 23 starts and some cracking action. The final heat - race 20 - had the entire stadium on their feet as Ward and Emil Sayfutdinov had an incredible duel. Ward grabbed the lead from gate three but then the advantage changed with every lap before the 20-year old Sydneysider claimed the race on the line.
It is also cut throat. Four laps, no pit stops and little room for error as Holder found when he finished last in heat 12 after a puncture.
"I was battling hard all day," said Holder, who couldn't snatch a Hampel style miracle in his semifinal from gate four. "Overall we were a little bit rusty."
The circuit will be back in Auckland next year but its future is uncertain. b The crowd was estimated to be a few thousands down on last year - not helped by the plethora of competing events this weekend - but big enough to build on.
"There is no reason why it can't continue here," said Rob Armstrong, the head of IMG Motorsports. "We can't force people to come along but we hope that they will embrace it. There is certainly a market here and we hope to keep the event here."
The future may also depend on the level of ongoing support from ATEED, who can have curious priorities; witness their large cash injection into Fast5 netball which attracted almost no international visitors. Last night there were large pockets of Australian visitors as well as fans from Europe, including those deliriously happy Poles.