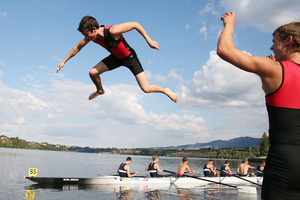 Olympic rowing success is behind the unprecedented boost in secondary school numbers at this year's Maadi Cup on Lake Karapiro.
The regatta, which ended yesterday, with Hamilton Boys' High School winning the Maadi Cup and the Executive Cup overall title for sweep oar events, had 26 per cent more entrants (2018 compared to 1600) from last year's event at Lake Ruataniwha, near Twizel. Dunedin's Kavanagh College won the Presidents Scull Trophy.
The desire to grab an oar (or oars) is being pinned on the performance of the New Zealand Olympians who earned three gold medals and two bronze at the London Games. Olympic single sculls champion Mahe Drysdale was spied at this year's regatta.
Andrew Carr-Smith, a member of the New Zealand Secondary Schools Rowing Association race committee and executive officer from 2005-12, said: "The post-Olympic boom has been incredible. Normally the profile tends to die away in the Games' aftermath but this time it has been sustained. Unlike rugby, where the focus tends to be purely on first XVs, the interest in rowing spreads across the school spectrum from novices to seniors."
While the event is known as the Maadi Cup, the cup of that name is contested by the under-18 men's eights. Maadi, a suburb of Cairo, Egypt was where the New Zealand Expeditionary Force trained during World War II.
They rowed against Egyptian clubs on the Nile to keep fit. At one regatta in November 1943, they were presented with what became known as the Maadi Cup.
Carr-Smith says the number of schools was up by 15 this year. They included Rongotai College who won the prestigious men's coxed four Springbok Shield in 1967 but have had a lull in entries for a generation.
Another entrant of note was Mt Albert Grammar School who have won eight Maadi Cups, including the inaugural event in 1947. Only Wanganui Collegiate (17) and Christ's College (10) have won more.
However, MAGS only revived their rowing programme four years ago after a gap of 30 years.
Head coach Will Maling used to be a coxswain at Auckland Grammar until, by his own admission, he "ate too many pies".
He says MAGS has been swept up in the momentum.
"MAGS is a pretty successful sporting school and we felt it was a good time to get into rowing.
"We wanted to take that step and strive for the prestige that goes with it. It takes so long to get a programme in place, be it through resources and culture.
We are lucky enough to have the support of a strong parent committee. They organise and fundraise in the local community be it through auctions, movie and quiz nights. However, you need an event like the Olympics to add to momentum.
"Those results have had a major influence on our numbers this year," Maling said.