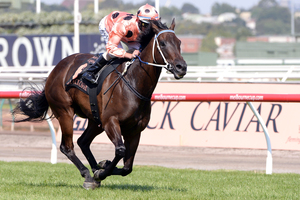 After 23 rehearsals, this performance may have been close to perfection.
Black Caviar, the best thoroughbred horse in the world, the horse who can't be beaten, claimed her 24th win from 24 starts in a race that had the build-up, the theatre and the sentiment of a farewell show.
The champion mare's victory in the group one William Reid Stakes at Moonee Valley went exactly to a well-established script that would be boring if it wasn't true.
Black Caviar jumps from the gates, rolls along under a garrotting grip, the brutal power kicks in, the massive stride lengthens and she wins.
The difference this time was the emotion. Trainer Peter Moody, who had been bed-ridden for a week in the lead-up, felt it as he high-fived the crowd on the way to the winner's stall.
"It's amazing, I get to see her every day," Moody said.
"But to see the joy in people's faces here tonight and to share that is a wonderful thing."
A farewell though it was, the William Reid doesn't mark the end of the road for Black Caviar, who is certain to have a couple of races in Sydney before retirement is considered. Managing owner Neil Werrett is also thinking about a return trip to Royal Ascot. But the William Reid was likely to have been her final appearance in Melbourne, and it was made before a capacity crowd.
Black Caviar won the William Reid by four lengths from stablemate Karuta Queen, a filly who is one of the fastest around but who was ridden purely to hold second place.
While there are only two more runs written in ink in Black Caviar's future, Moody again hinted at a comeback even before the final curtain has fallen.
"It's scary how well she's going," he said. "You never say never."