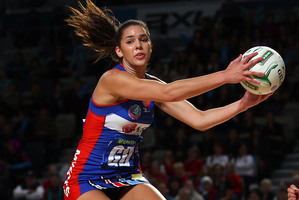 It is fitting Kayla Cullen is making the transition to the midcourt, where Silver Ferns coaching staff believe her future rests, at a time when she is transitioning into adulthood.
The Northern Mystics star, selected as a shooter before being converted into a defender, celebrated her 21st birthday last month. She insists this year we'll see her come of age as a player as well.
Selected in the New Zealand under-21 side at 16, a transtasman league contract at 17 and a Silver Fern by 19, Cullen's X-factor and rare athletic talent have long been recognised. She made an instant impact on the ANZ Championship, impressing in her cameo appearances for the side in 2010 to establish herself in the starting line-up by her second season, at the end of which she was named rookie of the year.
But her casual demeanour and lack of application off the court gave the impression the youngster took it all for granted.
The cramping in her calves that forced her from the court late in matches - including the 2011 grand final - were more an issue of preparation.
Cullen was not conscientious about recovery protocols and nutrition, second nature to senior players.
"I have mucked around a bit, to be honest," Cullen said. "At the time, I didn't think I was; I believed I was trying as hard as I could but, looking back, I wasn't doing all the things I should have been doing. I'll be a dick if I don't nail it this year - I'm not a newbie any more, so a lot more is expected of me and I have to set an example."
Former Mystics coach Debbie Fuller, who is taking time out this season to focus on family, admits Cullen was a challenge to manage. She believes her off-court struggles were a by-product of her rapid rise.
"I wouldn't say she was frustrating to coach, it was just about us being aware of the phase she was going through and giving her that extra support," said Fuller.
"For every young kid coming into the environment, there is a lot of learning to do. They're flooded with a whole lot of stuff - nutrition, recovery, training standards, how to manage media, franchise expectations - all while they are going through the transition from schoolgirl to adulthood. It's a lot to grapple with."
A born-and-bred Aucklander, Cullen grew up in a tiny three-bedroom townhouse in Meadowbank with five siblings.
"I'm pretty sure we had one of the neighbour's kids move in at some stage too," she recalled.
She has seven brothers and sisters - her father has two children from a previous relationship - which meant she never had to worry about numbers for impromptu basketball and touch games.
"There were always so many people around, sometimes it was a nightmare, but mostly I loved it."
Being the second youngest in a family of eight, the influence of the older kids meant there was potential for Cullen to go off the rails. She said her family have always been supportive and coaches in athletics and netball have steered her in the right direction.
"I sometimes felt a bit angry that I couldn't do all the stuff my friends were doing, because I had to be sensible. It's not that I wanted to go out and get trashed every night but sometimes I did feel like I was missing out."
Cullen no longer feels as if she is making a sacrifice. Over the past year, she has come to appreciate the privileges and opportunities that come with being a Silver Fern. She has just started as an ambassador for the World Vision 40-hour Famine, and will soon be popping up more on the telly as a roving reporter for a new show on Maori TV.
Juggling such a busy schedule requires planning and time management, something she hasn't been known for in the past.
"I've matured a lot. I've learnt a lot from being in the Ferns environment. We're taught a lot about self-responsibility and being focused and organised."
She will never be your typical straight-laced netballer, she remains refreshingly honest, with a cavalier streak. But Fuller said there has been a noticeable change in Cullen's attitude coming into what will be her most challenging season.
Her fitness has improved and she has a fresh resolve as she seeks to make her move to the midcourt a successful one.
"She's put in the time and effort and taken her training to another level, and that's really exciting when you consider the skillset she's got," Fuller said.
Cullen hasn't been fazed by the events of the pre-season, which saw the Mystics lose two of last season's starting seven - Anna Harrison and Charlotte Kight.
"You've just gotta roll with the punches," she said.
It's part of growing up.
Mystics vs Vixens, Trusts Arena, 7.40pm tomorrow.