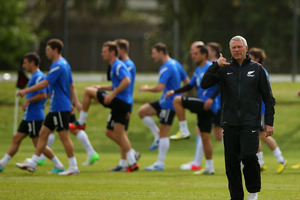 It's the game with nothing riding on it which is why All Whites coach Ricki Herbert has left 10 of his first-choice lineup out of Tuesday's final Oceania World Cup qualifier against the Solomon Islands in Honiara.
The All Whites secured progression to November's intercontinental playoff against the fourth-placed team from North and Central America with their dramatic 2-1 win over New Caledonia in Dunedin on Friday night. For more than 30 minutes in the second half it looked like they would have to go to Honiara and get something out of the game but they were saved by Tommy Smith's goal deep in injury time.
Herbert has released new All Whites captain Winston Reid, Chris Killen, Michael McGlinchey, Marco Rojas, Shane Smeltz, Tommy Smith, Ivan Vicelich and Chris Wood from the squad and brought in Aaron Clapham, Cameron Lindsay, Luke Rowe and Aaron Scott. They will travel to Honiara with only 14 players and, while keen to win to achieve a perfect record of six wins from six games in phase three of qualifying, the result is secondary.
Its a smart option because Herbert can better manage the card situation, with 10 players sitting one yellow away from a suspension for the World Cup playoff. Seven of the 10 have been released - Reid, Smith, Vicelich, McGlinchey, Killen, Smeltz and Wood - Tony Lochhead is out injured and Leo Bertos and Jeremy Brockie will start on the bench on Tuesday and be told to be very careful if they get on the field of play.
"Logistically we have tried to make it work,'' Herbert said. "We can pretty much put a team on the pitch free from cards and injury-free. We can put out a team to fulfil a fixture.''
Herbert was limited in who he could call up. Cameron Howieson, Louis Fenton, Tyler Boyd and Luke Adams are all involved with the under-20s as they attempt to qualify for the Under-20 World Cup in Turkey starting in June and Auckland City and Waitakere United both play their opening O-League matches next weekend.
Clapham is familiar with Honiara, having played in last year's Oceania Nations Cup, and had been told he would probably be included in the squad regardless of the result on Friday night. Scott played at the 2009 Confederations Cup and was in the mix for the World Cup squad, and Herbert has had experience with both Rowe and Lindsay through his time as Wellington Phoenix coach.
Herbert will play Andrew Durante and hope his eligibility is questioned so they can get a definitive answer from Fifa about whether he qualifies to play for New Zealand. They need to know now and not in a high-stakes World Cup playoff.
The All Whites will line up in a 4-4-2 formation, with Mark Paston joining Bertos and Brockie on the bench.
One who probably would have been given a leave pass anyway was Smeltz, but New Zealand's premier striker is sporting 18 stitches after a kick to the head from Joel Wakanumune late in the game.
It was staggering the All Whites didn't earn a penalty for the callous challenge and equally astonishing the New Caledonia defender wasn't sent off - he wasn't even booked.

Referee Strebre Delovski of Australia also brandished only a yellow to Emile Bearune, who directed a full-blown kick into Wood's knee. Poor officiating was a feature of last year's Nations Cup, when Oceania referees were used, but Delovski was far too lenient on Friday night.
Fortunately, the refereeing didn't cost the All Whites but they could have won more easily than they did. The main thing was they won.
All Whites squad to play the Solomon Islands in Honiara on Tuesday (5pm NZT): Mark Paston, Aaron Scott, Ben Sigmund, Leo Bertos, Luke Rowe, Jacob Spoonley, Dan Keat, Ian Hogg, Cameron Lindsay, Jeremy Brockie, Kosta Barbarouses, Tim Payne, Aaron Clapham, Andrew Durante.
- APNZ