HRV bosses have identified trotting as the best vehicle to sell the product offshore.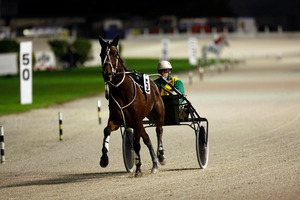 Tonight's inaugural A$350,000 ($438,000) Great Southern Star is more than just a battle for money and glory among some of Australasia's best trotters.
It is the important next step in harness racing's strategy to internationalise its product.
The series will see two heats of 10 trotters compete in races three and four at Melton tonight, with a final for the top 10 qualifiers less than three hours later.
While the series misses Kiwi champion I Can Doosit, it brings together Aussie's best against four top New Zealand trotters and Ridgehead Cahore from Scandinavia, although - off the back of an interrupted preparation - he is an outsider.
The fact that Ridgehead Cahore has travelled from the other side of the world at all is what harness racing bosses hope will be an important step to creating a truly international race in Australia, with obvious benefits for New Zealand.
Harness Racing Victoria bosses have identified trotting, as opposed to pacing, as the best vehicle to sell Australian harness racing offshore.
In Europe and Scandinavia there is no pacing and hence betting regulators there want to take coverage, and therefore provide betting on, only trotting races.
They did just that last year when the NSW Trotting Derby was telecast in France and the turnover was four times higher than the entire Australian turnover on the race.
"We realise trotting races as the best way we can consistently sell our product into those countries and grow our turnovers," said HRV operations manager Brant Dunshea.
The biggest boost to increasing interest in Australian trotting would be regular competitors from Europe, in much the same way Australian interest in Royal Ascot has skyrocketed since their sprinters started heading there and vice versa for Europe and the Melbourne Cup.
With harness racing's domestic market share in Australia lagging behind the greyhounds and in a different world from galloping, selling it offshore has become crucial.
So while the Ridgehead Cahore experiment isn't going to set the world on fire, it is seen as the first step in luring regular European contenders down for the Great Southern Star.
The format of the series, sprint racing and heats and finals in the same night, appeals to the Europeans, as will a boost in stakes next season to A$400,000.
HRV bosses are aiming for a A$500,000 series in two years which, with the strong Australian dollar, makes it one of the richest trotting races in the world.
The international raiders most likely to profit from that tonight, though, are the Kiwis, whether they are trained here or recent exports.
Stig, Vulcan and Sovereignty can all win the final but where they finish in their heats will be crucial because connections get to choose their barrier for the final based on heat placings.
And two of their biggest dangers are from the former trotting backwater of New South Wales.
Dreamit has been brilliant winning his only two Australian starts for Belinda and Luke McCarthy while the find of the trotting season has been Keystone Del. He won a pathetic maiden race at Manawatu in the spring but last start won the A$200,000 Glenferrie Farm Challenge for former Kiwi trainer Nicola Molander, now based in Sydney.