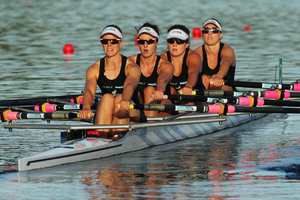 New Zealand's 41-strong rowing team made a solid start to the first world cup rowing regatta of the year in perfect conditions in Penrith, New South Wales, yesterday.
The women's quad - Sarah Gray, Erin-Monique Shelton, Genevieve Armstrong and Georgia Perry - were first up and led their heat strongly to finish in a time of 6:36.94 and progress to the final with the US.
The men's coxless four of Jade Uru, Bobby Kells, Adam Tripp and Tobias Wehr-Candler also came first in their heat, finishing in 6:09.45.
The new combination in the men's quadruple scull - Nathan Cohen, Hayden Cohen, Nathan Flannery and Fergus Fauvel - could manage only second in their heat, finishing more than three seconds behind Great Britain, but the experience would have served the relatively young crew well before Sunday's final.
Women's double scullers Fiona Bourke and Zoe Stevenson started well and won by nearly 10 seconds to head directly to the final, while women's lightweight double scullers Julia Edward and Lucy Strack won their heat in 7:07.92.
The men's coxed eight, a young and inexperienced crew, showed their grit and kept up with the Australians but still placed fourth in their heat. They finished in 5.46.26, about two boat lengths behind the winners Great Britain, but still progressed to the final.
Duncan Grant, one of the most experienced scullers in his field, continued his dominance in the lightweight men's single boat, finishing his heat in a time of 7:21.21.
Meanwhile, New Zealand coach Noel Donaldson has told his former Australian team to get its priorities right after farcical opening-day scenes.
World rowing's noble attempt to globalise the sport fell flat at Penrith Lakes on Friday due to embarrassingly low fields which were reduced even further when the host nation withdrew two crews.
With almost all leading European nations ignoring the first World Cup to be held in the Southern Hemisphere, entries were down to three and four boats in some categories.