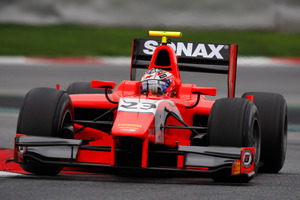 New Zealand motorsport is on the cusp of a return to the glory days of the 1960s and 70s when there was a plethora of young drivers plying their trade overseas.
One of the five or six youngsters who could make their own distinctive mark on the motorsport landscape is Mitch Evans, who is venturing into new territory this weekend.
The reigning GP3 champion has made the big step-up into a category that is just one down from Formula One, GP2.
Despite his youth, Evans is keen to see how he matches up to a host of more established and experienced drivers.
Evans is in Malaysia this weekend for the opening round of the GP2 championship, which is a support class for the second race in the F1 championship, and is very much aware he has his work cut out.
"It was great to be at the Australian Grand Prix and it's really got me fired up for this weekend," Evans said. "I had itchy feet all weekend watching the racing and now it's my turn. Mentally I'm prepared and hoping to get out there and get some good results."
Realistically Evans is probably not going to set the GP2 world on fire in his first race as he's up against some pretty seasoned campaigners. Having said that, Evans wasn't expecting much in his first GP3 race either and he finished eighth in race two of his first weekend in the category.
"Obviously every time I go out I want to win but that's probably not going to happen. If I get in the points I'll be a happy boy at the end of the weekend.
"That's the goal and if we achieve that it'll be a good result. Getting points is the first thing to get off your back and that's the mindset I have at the moment.
"If I can get just inside the top eight in race one it'll be good as race two is a reverse grid top eight and so I'll be at the front."
At 18, Evans is the youngest driver in the field and one of the few rookies to boot. His teammate at Arden International is Johnny Cecotto Jnr who's in his fourth season racing GP2.
Evans was faster than Cecotto at final pre-season test in Barcelona recently.
"Arden is very happy with me and my performances so far. I've just got to make sure I get it up and produce the goods when it's race day.
"I've been very competitive against my teammate and he's someone they rate very highly and he's been in GP2 for a while now.
"If I can manage to beat him it'll be a job well done but there's a lot of drivers out there who have had a lot of experience at Sepang whereas it's my first visit and it's going to be hard," Evans said.
GP2 cars are demonstratively bigger and faster than he's used to, and the talent pool is also bigger and faster. His GP3 car was a four-cylinder, albeit turbo charged, 2.0-litre pushing out about 209kW. He's now got the keys to a 4.0-litre V8 developing 456kW with over twice as much power, which will have to be treated with finesse and care.
After two testing sessions at Jerez and Barcelona, Evans steadily came to grips with the car and towards the end was a regular top-10 pace setter with a best time good enough to see him sixth fastest.
"It's a beast of a car with a lot of power and downforce but I like it. They're a lot more physical to drive and the steering is ridiculously heavy but you've just got to man up and get on with it," he said.
He has qualifying and race one on Saturday and his second race on Sunday morning.