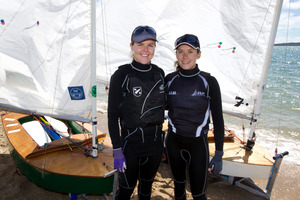 They went to the London Olympics considered an outside chance of winning a medal and struck gold. Sailors Jo Aleh and Olivia "Polly" Powrie, who go by the name of "Team Jolly Racing", hope to strike gold of a different kind this weekend in the iconic Central Otago Goldrush race.
How hard was it to come back down to earth after what you achieved in London?
JA: We didn't really get any time to reflect on what we had done when we got home, as we were amazingly hectic when we got back, sharing the medal and visiting schools, yacht clubs and all sorts of people. So it's probably not until a few weeks ago that I really came down and crashed.
OP: It was a fantastic high winning a gold medal, and it did take me some time to process what we had done. I thought I was going to come home and get back into uni and a bit of normality but we didn't realise what this meant for New Zealand and we were thoroughly overwhelmed with the amount of support and interest the whole Olympic team had.
A great reception to come home to though.
How has life changed since you won gold and are you committed for Rio in 2016?
JA: My life has been a strange mix of unusual and the usual since we won gold, most days are just like they used to be, but then there are the weird ones where we are talking to school kids, or even the strange experience of buying your veggies and the lady at the till asking me about Rio.
OP: Life is not too dissimilar. We have a few new commitments - visiting schools and yacht clubs around the country. We also have some fantastic new sponsors helping us towards Rio - Apollo Projects / Kingspan / John Jones Steel/ Active Refrigeration/Profile Construction and O'Donnell Griffin. These guys have just made our lives a bit easier so we can compete in more regattas overseas in our Road to Rio.
What inspired you to take part in the Goldrush multisport event?
JA: We always like a good challenge, and I am quite a keen cyclist anyway, so when the idea was brought up I jumped at it! What could be better! Awesome location, some great biking sections and a fun team to do it with.
OP: We have always done a few biking and running events in our build-ups to regattas as it gives us a really good short-term goal to work towards with our fitness. I've never done more than a one-day event so I really look forward to seeing how I go over three days and in great scenery.
What are your performance expectations for this event?
JA: I have to admit I am not at my cycling best, that was late last year after the Games when I did a little mini campaign culminating in three six-hour races in three weeks, the last being the K2. Since then we have gotten back into sailing, and all that goes along with it, so I am a little out of practice on the bike! Just hope I don't let the team down.
OP: I just plan to enjoy myself and hopefully won't let the team down.
What are you most looking forward this weekend?
JA: I have never done that much cycling down south, so really looking forward to seeing the sights, and exploring the place! As well as trying to beat Polly's team.
OP: The location - being able to ride through this part of the country. And also hanging out with the wider Apollo team - I'm sure things will get competitive between each team.
Have you always had an interest in multisport?
JA: Yep, I do enjoy my cross training, I have been cycling for a few years, and do MTB and road events when I can fit them in, as well as taking up stand-up paddleboard racing. So I do like any excuse to get out there. And only get a little over-competitive.
OP: I'm a bit of a newbie to multisport. I like being able to train outdoors on the bike or running and have done a few biking events. However, I've never kayaked before really but it's something I would like to try.