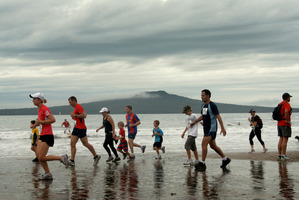 If you were looking for a school that lives and breathes North Harbour's biggest annual community sports event, then look no further than Willow Park School in Hillcrest.
The primary school, with a roll of 570, has embraced tomorrow's 5km fun run/walk, the Shore to Shore, almost like no other.
Largely responsible for this enthusiasm is its sports co-ordinator, Linda Appleton.
"We have 407 entries this year and apart from the obvious health benefits it's just a wonderful community event," said Appleton. "The children and their families get such a thrill from being involved in the excitement of the day."
And that fun filters right through the school with in-house and class competitions and principal Jeff Johnstone playing dress-up.
"Last year he tried being Jack Sparrow from the Pirates of the Caribbean movie; the year before he was a pink fairy, but all's been quiet on what he'll be this year. All will be revealed on Sunday."
Also involved in the day will be TVNZ's breakfast weather presenter Sam Wallace. He will MC the event and is excited to be involved.
"I live locally, so this is my home town event and I love it," said the larger-than-life presenter. "I did it several years ago, and to be involved with it again as the MC this time is just awesome."
There is also a strong financial incentive for schools to be involved. If a school enters they receive a grant for new sporting equipment based on their number of participants. That means the more entries a school can get, the more money they receive.
"Last year we received $2800, which enabled us to replace a rickety old gymnastics beam and buy a new trampoline and several gym mats," Appleton said.
"These are big ticket items and without the Shore to Shore many schools might not be able to afford to buy such equipment."
Just under 5000 people of all ages will take part in tomorrow's event, now in its 29th year. It starts at Takapuna Grammar School at 9am and then winds its way through Takapuna and along Milford beach to finish at Milford reserve.
Shore to Shore
When: Tomorrow, 9am
Where: Takapuna Grammar, North Shore, Auckland
What: 5km run/walk
Enter: Online entries are now closed. You can still register on the day at the start line, Takapuna Grammar
For more information visit: www.shoretoshore.co.nz