Tweets on Walsh handling of decider, Woodward on Lancaster, and Tiger's squeeze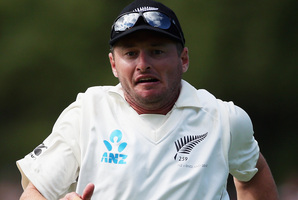 Reffing hell
New Zealand's favourite Australian Steve Walsh came in for a bit of English flak after his handling of the Six Nations decider last weekend. In among the bile and invective, there was the odd Twitter gem. "Steve Walsh is far too beautiful to have to deal with this nonsense. Shame on you, England," wrote @WelshDalaiLama. From the same tweeter: "Putting Steve Walsh on TV at this hour can only mean one thing. A spike in the birthrate around mid-December. He's a walking aphrodisiac." Perhaps the best one came from @bloodandmud: "Steve Walsh at the Vatican for Pope Francis' inauguration. Pope Frank offered to step down ... "
For the record, Walsh was OK, but he has an uncanny habit of worming his way up English noses.
Thanks, Clive
From Clive Woodward's latest column in the Daily Mail: "Coach Stuart Lancaster is doing a fine job, especially considering he is relatively inexperienced and still learning, but it is often suggested he would benefit from working closely with a more experienced individual for support and guidance." Um, anyone in mind, Sir Clive?
Speaking of lookalikes
It didn't go unnoticed that Tiger Woods' latest squeeze, skier Lindsey Vonn, bears a striking resemblance to ex-wife Elin Nordegren. It begs the question, would you rather be chased down the driveway by someone wielding a five-iron or a ski pole?
Halcyon days for streakers
Miami Heat's win streak extended to 24 games yesterday when they came from behind to beat Cleveland Cavaliers 98-95. They're now just nine games behind the 1971-72 LA Lakers. Also streaking ahead are the Breakers, with 16 straight wins, and Lionel Messi, who has scored in 18 straight La Liga games for Barcelona. At the other end of the scale, the Warriors have now gone 10 games and 258 days since they won an NRL match.
Saying goodbye is hard
In these days of professional sport, players changing teams and breaking the hearts of the fanbase has become par for the course. But Green Bay wide receiver Greg Jennings found it harder to say goodbye than most. He took a full-page ad out in the Milwaukee Journal Sentinel and Green Bay Press Gazette, thanking the fans and the organisation for "opening your arms and hearts to my family and me". He'll now play for the Minnesota Vikings, but his classy departure should ensure he doesn't become a hate figure, a la LeBron James in Cleveland.
English manners
An England cricket tour is big news for local cricket fans, not that their management seems to care. Local media claim that access to England players during this tour has been pitiful, with no one-on-one interviews granted. It would be nice to think the Kiwis will be above that when they tour England and give their time obligingly to touring and local press.
Chechen troubles
Russian Premier League soccer club Terek Grozny have been banned from their stadium for one match after Chechen leader Ramzan Kadyrov taunted a referee over the club's loudspeaker system. Kadyrov, who is the club's president as well as the leader of the troubled Russian republic, reacted angrily to referee Mikhail Vilkov's dismissal of Terek captain Rizvan Utsiev during Sunday's 0-0 draw at home to Rubin Kazan. "The referee is corrupt. You jerk," Kadyrov yelled. That brought a fine of 200,000 roubles ($7800) as well as the stadium ban. Kadyrov has since stoked up tensions rather than trying to smooth things over. "The game was just awful because of the biased referee," Kadyrov wrote on his Instagram page.